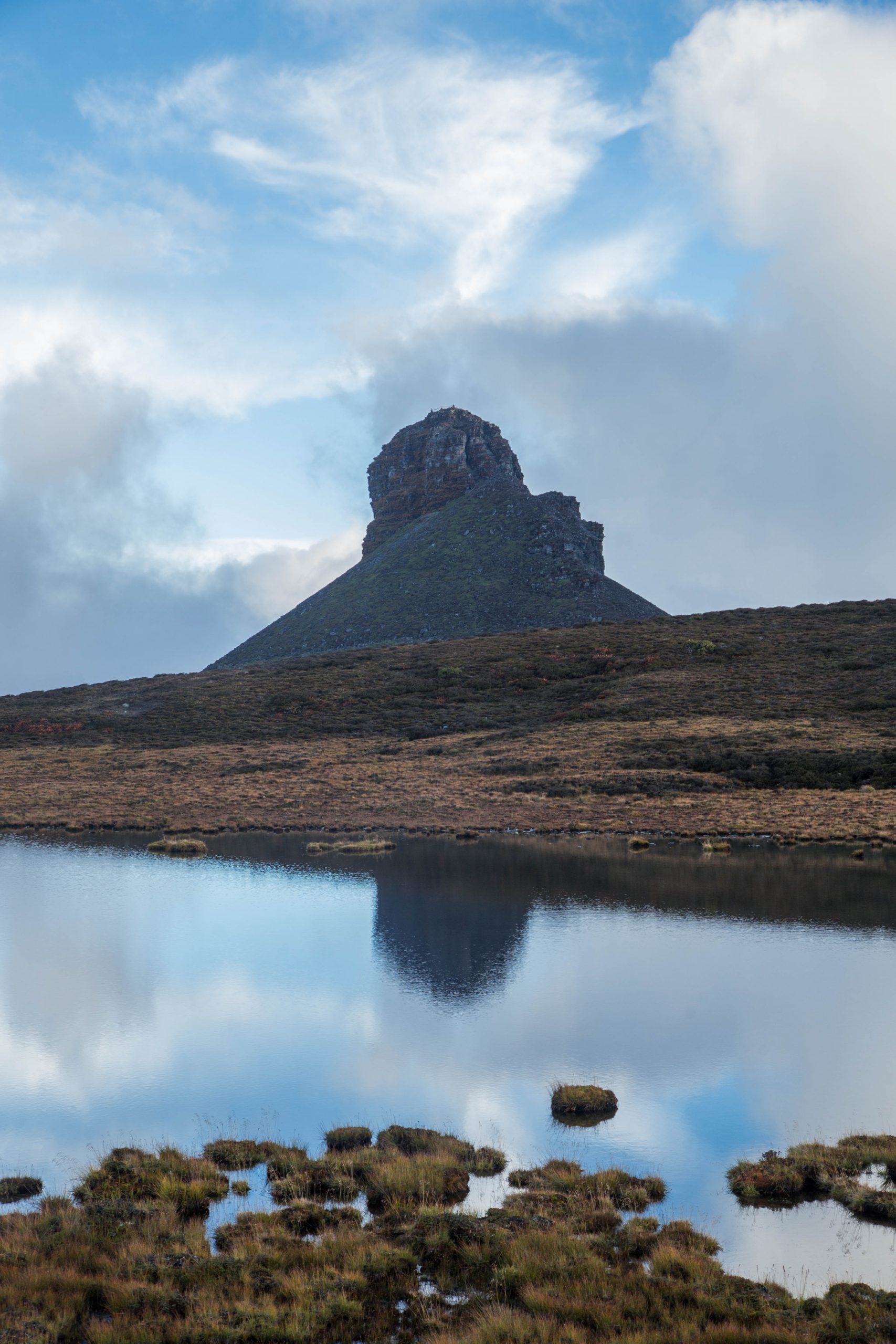 Imagine the vast moors in Gothic English literature surrounded by high ridges, hardened by centuries- old rocks. They say people lose their way here, in the home of the mystical Yeti. Welcome to the lost trail of Brigdungla.
The Brigdungla trail is a four-day trek. You will traverse along scenic pine forests, vast rhododendron shrubs, and dozens of lakes to reach the highest point of about 4600 m. Locals say that there are actually 108 scattered lakes around this region, in addition to beautiful valley views and a tiger habitat. Leading the trail, Tshering Penjor (who we quickly fall to calling 'TP sir') from the Bumthang Dzongkhag administration, says that in these four days, we will get to see a huge portion of the views that you see along the one-month snowman trek.
Day one
Zhurey village to Pongchen Camp
We begin our journey from the village of Zhura, 28 kms away from Chamkhar town, connecting to the Ura bypass road. "Are you ready for the trek madam?" asks TP sir. For someone taking on this trail for the third time, he seems quite excited to do it all over again. "The first group sent to scout the trail with the village guide had a tough time," TP sir tells me. "As it was in early spring, we were literally looking for the ground with our knees deep in thick snow." He shows me photos of the first expeditions. " We almost got lost!" he says.
Brigdungla is perhaps one of the most unheard-of places in Bhutan, and why wouldn't it be? Many Bumthaps have shared their fear of losing their way in the thick forests in the highlands where ancient paths have now all been taken over by the wilderness. I ask TP sir why the districts choose a route with a non-existent Trail. "We had heard of this place from locals for a while now. And we were absolutely mesmerized when we got here."
With high expectations and low stamina, I set off to discover a new trekking experience with team Bumthang.. After a grueling ascent among giant spruce and pine trees, we reach our first campsite. Amidst a small open meadow on top of the mountain surrounded by the darkening mountain silhouette is a cozy log cabin.
"This cabin has been built by the villagers for trekkers if they want to spend the night here," says TP sir. He gives us a tour of this delightful structure. Bumthang is the first Dzongkhag to offer amenities like this for trekkers and I'm told we have one more to look forward to on this journey. As we all bunk together in the tiny cabin, I realized the value of such a space in an altitude with freezing temperatures. And so we sleep listening to the wind whistling through the gaps in the cabin boards and the huffing of the horses outside.
Day Two
Pongchen to Tsemchi Campsite
The sound of pots clattering outside wakes me up at 5 am. 'Am I dreaming?' I think to myself as I stare at the morning landscape diffused with the kind of pink gradient you see in paintings. The pinkish hue slowly turns as the morning sun rays slowly take over the sky. "Today we will be leaving the treeline," says TP sir. "We will be entering the shrubs. We will be walking through the rhododendron gardens and we will be passing by several lakes," he adds excitedly.
As we cross the tall spruce and rhododendron forests, we finally arrive at a clear space now above the treeline. Sprawled with Ballu and Sullu shrubs, this is the point where you get to enjoy the views of the mountain ranges left behind and those that still await. "The community still has some work left as most of the paths are not very clear," says TP sir as we walk amongst the small shrubs. I can only imagine how the first group managed to maneuver through a territory like this without any clear directions; no wonder people were nervous about Brigdungla.
As the landscape begins changing around us, we arrive at the top of the ridges TP sir vaguely pointed at during the start of the trek. What looks like a smooth green mountain range from a distance is a mountain of rocks filled with thorny shrubs. The rolling mist keeps closing in, giving only fleeting glimpses of the wide landscape. These are not the velvety green meadows you see on postcards, it's something more than you can ever imagine.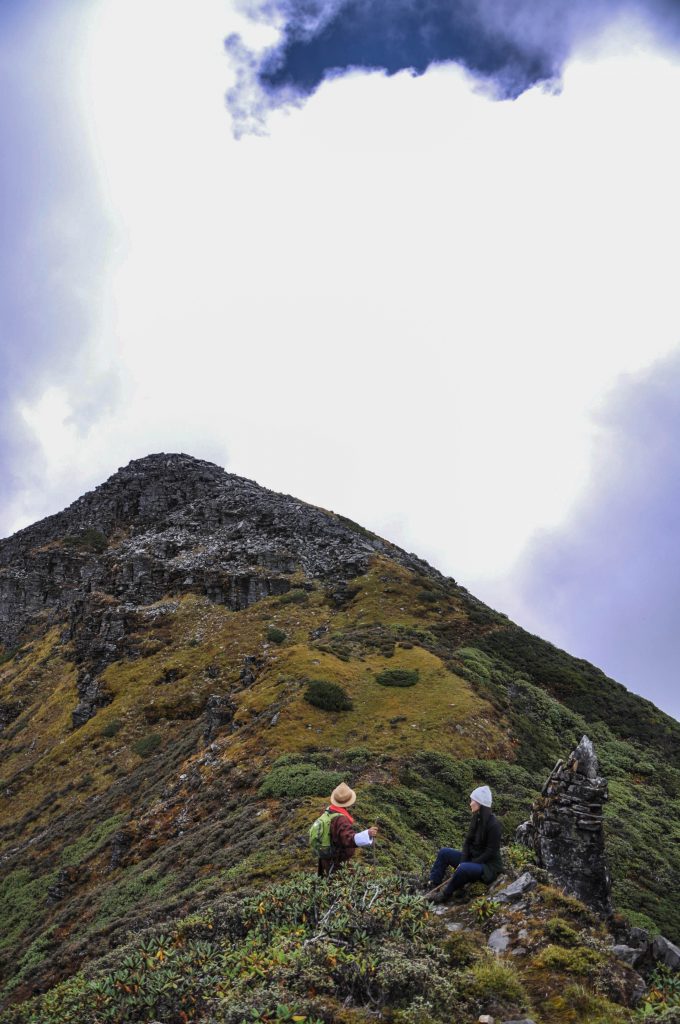 TP sir and I sit for a while and stare at these strange rock formations. If only these rocks could speak, maybe they would tell us a story of ancient rock palaces in the sky, the abodes of deities and spirits…of rock castles and fortresses struck down by something unforeseen. Or maybe it would tell me to shut up and stop imagining things! Towards the end of the second day of the Brigdungla trek, you'll find yourself close to a sacred space that is revered by the people of this region in Bumthang. At the highest point of the trail 4521 meters stands what locals believe to be the home of a mystical force: Mount Pholha.
In Bhutan, we believe that spirits and deities reside in the land as supernatural entities as giant trees, rocks, and mountains. Mount Pholha is one such deity that this region of southern Bumthang worships.
Mount Pholha is a wonder of nature. Rising from the earth, like a fist holding a Norbu (precious jewel), the sight of the mountain emanates a powerful allure. "No one should climb Pholha," says Memey Jurmey. "Whether we are building a new house or performing a community ritual, we always first pay our respects to Pholha."
The majestic mountain is probably one of the main attractions of Brigdungla trek, and you'll come to understand how the highlands in Bhutan are all about from the many scattered sacred lakes, unique vegetation, and breathtaking views to the ancient legends that are still close to the hearts of its people.
As dusk settles in and our campsite near Pholha becomes clouded by the evening mist, our chefs shout "Toh zawa jen" (come eat) from a distance, and in the darkness I see a glowing light from the rocks above our camp it our kitchen in a cave.
I've tried fine dining before, but this experience really goes beyond anything we've ever experienced. As Memey Jurmey tells me more about Pholha, Ata Pema and Tashi (our horsemen and talented chefs) prepare ema datsi on a small fire inside the cave. "Yak herders built this," says Memey pointing at the wall of stacked rocks completing the enclosure of the cave. We sit on the sacks and enjoy your meals, as the candles cast a warm glow on the sooty black walls. Now this is my kind of fine dining.
DAY THREE BRIGDUNGLA Mountain
If you ever come to Brigdungla,you have to spend an extra day at the 2nd campsite on the peak of the trek near Phola. So that's exactly what we did. When we wake up the next day with a gorgeous panoramic view of the surrounding ridges around our camp, we want to explore the view from up there. After a hearty breakfast we find ourselves climbing the steep ridges, literally on all fours.
"Don't look down," I say to myself as we steadily climb the steep slopes,and soon our camp is nothing more than distant blue dots.a aren't even halfway there and 'I'm already feeling quite drained."Do you know why mountain goats turn around when they're walking up?" asks TP Sir ,"It's because they proudly look at the distance covered. so you should always look back,and feel proud at how much you have climbed. Don't worry about how much still lies ahead."
Truth be told I am not a seasoned trekker, and I honestly struggle walking up these mountains. But TP sir's humorous anecdotes and words of encouragement really make the journey easier. And soon we are all up there on top sitting near piles of rocks that herders had turned into ttupas with flags. Make this climb, Folks! This climb is exhausting, but it's also exhilarating and rewarding. You'll know what I mean when you see it with your own eyes.
DAY FOUR
Tsemchi Camp to Wongbu Camp
After saying goodbye to Phola, we began our four-hour descent towards our next camp in Wongbu at 4090m. As we make our way down into the treeline zone again,in a small opening on top of the mountain,stands one more log cabin built by the residents of Bim Village. The full moon and the burning campfire create the perfect lighting,illuminating the beautiful structure in the darkness of the mountains. It's windy and cold but we find our warmth and solace inside this beautiful addition to the Brigdungla trek.
As we sit around the fire, Ata Tashi and Tshering emerge from the woods with buttermilk and fresh yak butter." We got this from the yak herder family just below these mountains," they tell us as they begin unwrapping the giant rhododendron leaves with the fresh butter inside. I get even more excited when TP sir says we'll be visiting the family tomorrow morning. Suddenly,the team has a wild idea of roasting potatoes in the fire and eating them with the yak butter – pure happiness.
DAY FIVE
Wongbu Camp to Bim Village
For our last day of the Brigdungla trek, the Bumthang Dzongkhag team has planned a special program for us a visit to the region's last yak-herding family who are staying in a shed at the bottom of the Wongbu camp hill, If you ever come across this yak herding family in Brigdungla, consider yourself very lucky, because they are the last of their kind of live this nomadic life in these mountains.
After nervously navigating through a large herd of yaks, we arrive at the home of the family taking care of these majestic animals of the highlands.In the distance are two young lads milking the yaks into white plastic buckets, while a small boy holds the calf with rope. There's smoke coming from the chimney of the stone shelter, a place they call home every few months. A woman in gumboots and a colorful scarf on her head walks towards us from the shelter.
Meet Aum Sangay. The 57-year-old is a mother of seven, and the sole matriarch looking after 160 yaks (43 female Bjis), living a life constantly on the move." These yaks actually belong to Nimalung Dratshang. I look after them and I earn an income from selling yak butter and cheese," Aum Sangay explains. Life is difficult for her.
"Butchering yaks is banned so we can't earn an income through selling the meat,and I've already lost quite a few to tigers in the area. We no longer get compensated for the animals lost to the tigers so the numbers go down." She also shares that it was only because of the pandemic that her children are here helping her." Once their schools and colleges start, I'll be alone again and I don't know how long I can do it alone."
When Aum Sangay shared her story with us,she did it with a smile on her face. It's easy to give in to the allure of this way of life, especially as a visitor who doesn't have to live it everyday. The beautiful setting in the mountains with herds of yaks in the background make for a great instagram post, but rarely do we understand the difficult life behind it all.
This was exactly why Bumthang dzongkhag opened these trails for tourism: to help the mountain communities." We may not be able to keep everyone happy, but we believe in creating valuable avenues where people can be given an opportunity to earn an income.We hope that this trek will be able to benefit families like this through tourism. As more people visit Brigdungla, Aum Sangay can offer yak cheese, tea, and butter to guests and earn a living," says TP Sir.
And that's what I hope for as well. If you're reading this and if you take this trek, please be mindful to help the communities here. Have tea with them, spend a night in their homestays, buy their cheese and butter, and also help them understand the difference responsible tourism can make to the lives of their community members. Maybe this way, we can save the last yak herding family of Brigdungla.
Every once in a while you come across a place you can't bear to leave. As I say goodbye to Brigdungla, I try not to ponder on the sadness of seeing the trek come to an end, instead I take with me so much more than what I started this journey with.
I take with me the memories of the pink skies of Pongchen's dawn. The memory of Phola's majestic presence posed to allure yet another wanderer. The stories and anecdotes from an amazing group of people who made this journey more memorable. And the moment I first saw the scattered lakes on the vast highlands and reflected on their sheer existence. Come to Bumthang. Create your own adventure and see for yourself the magic as you discover the lost trail of Brigdungla.