Sakteng Wildlife Sanctuary (SWS) was created in 2003 to showcase Bhutan's easternmost temperate and alpine ecosystems. It is home to some of the world's most threatened wildlife species. The park also has the highest number of Rhododendron species.
With an area of 740.60 square kms, SWS encompasses Merak and Sakteng gewogs in Trashigang district. And a part of Lauri gewog in Samdrup Jongkhar.
One of the best ways to explore and marvel at the beauty of Bhutan's protected national parks is by trekking. One such trail to explore the highlands in SWS is the trek to Jomo Kuenkhar.
Jomo Kuenkhar is considered to be the abode of the Female Deity worshipped by the highlanders here. I had heard of a strange mountain overlooking a vastness of high mountain tips with clouds beneath them.
The trail takes you from the cluster of Merak village, into the deep coniferous forests and pristine mountain creeks. The trail goes steeply upwards towards the highland glades. The landscape is scattered with stone huts of local yak herding families guarded by ferocious Bjob Chhis (Tibetan Mastiffs)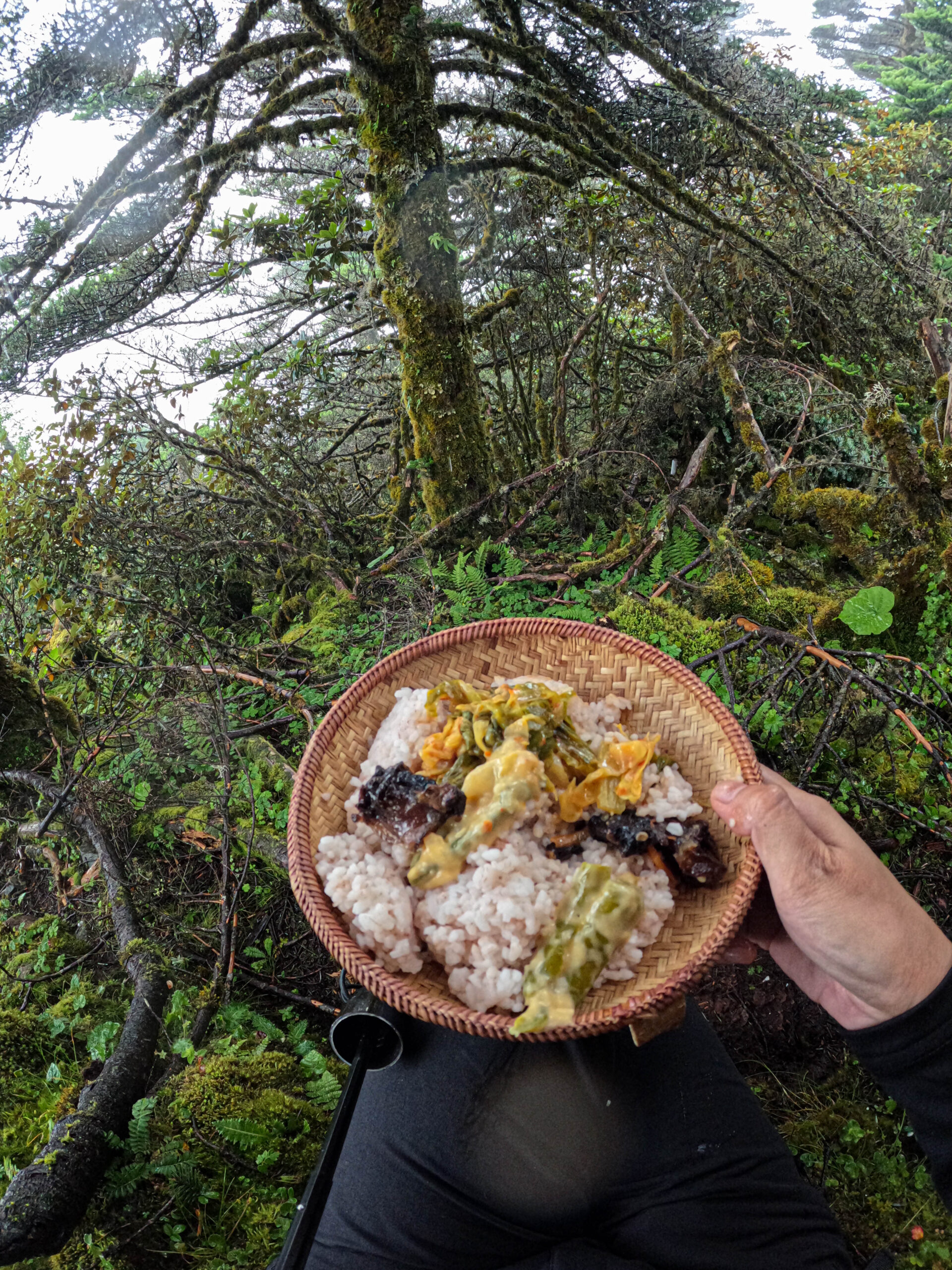 But this trail also takes you to a fascinating place filled with local legends. This is the terriroty of the deity of the Brokpa Highlanders – Aum Jomo.
I made it to the Abode of Aum Jomo – Jomo Kuenkhar. When we finally arrived at the stone hut of the highlander family, the mist had enveloped the ridge. It barely gave us a peek of the top of Jomo Kuenkhar. And at the base of it, i saw the temple dedicated to Aum Jomo.
Aum Jomo
There's something quite haunting about this place. The story that Ap Tshering told me that night kept me awake for a while. "It is believed that Aum Jomo doesn't welcome women here. And you can't eat eggs or pork here," he said. "Not very long ago, a female visitor ate boiled eggs near the tsho (lake). Needless to say she was dragged by her legs that night at camp by a dark entity. We believe it was Aum Jomo."
Locals don't really have an explanation on why specifically those types of foods or why certain behaviors are condemned while visiting sacred sites. But there's an invisible force when you visit these places that makes you think twice about questioning such beliefs. No matter how much of a skeptic you are.
But there's also beauty in such stories. I can't help but marvel at the many fascinating history and tales hidden in such corners of my country. I sat in Aum Jomo's temple staring at the powerful female deity sculptured in a magnificent art form surrounded by absolutely nothing. No murals, no water offering bowls, no flowers. You won't get to experience such a setting. It's mesmerizing.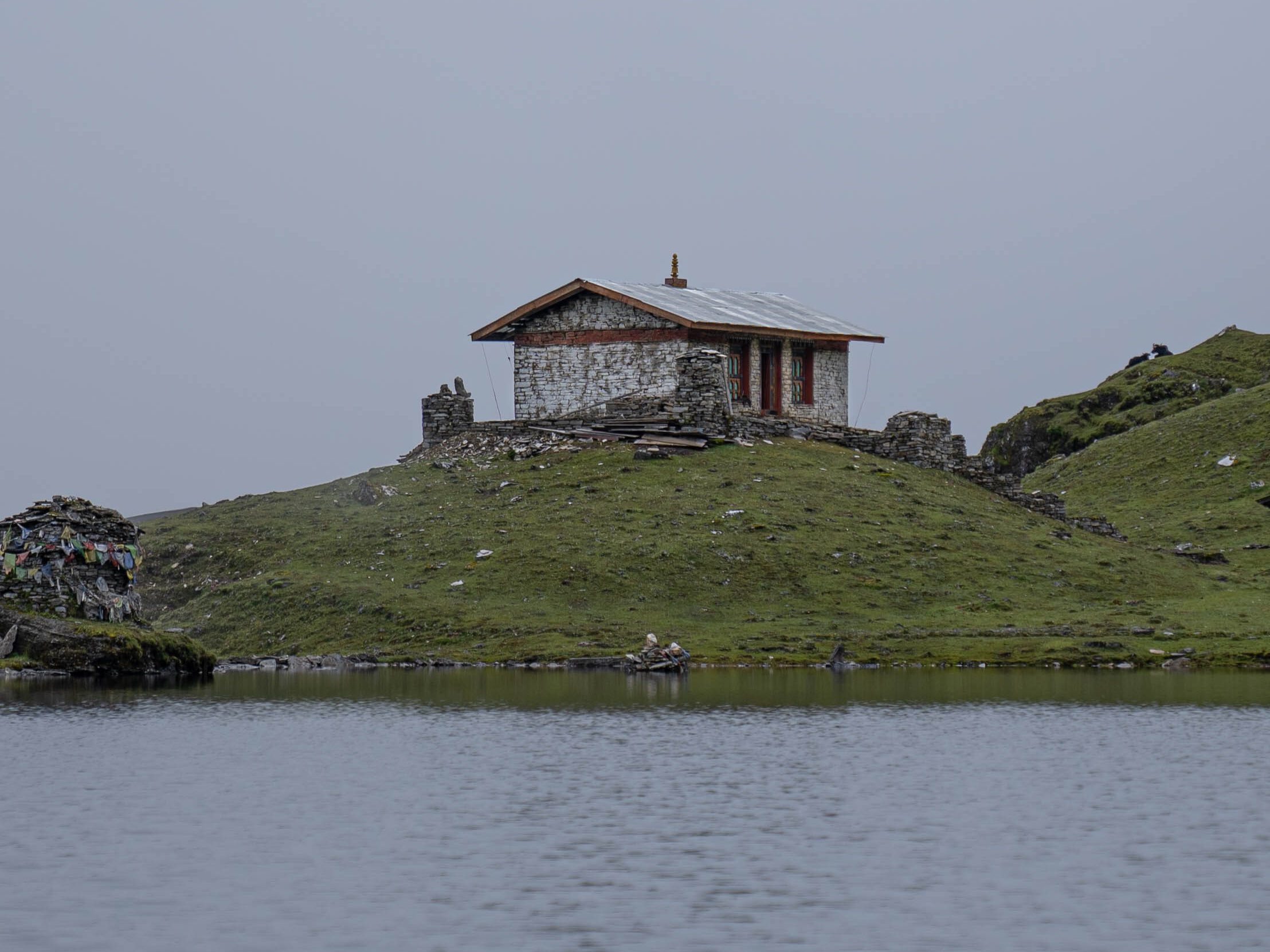 Remember I told you that women aren't allowed to climb Jomo Kuenkhar – the abode of Aum Jomo? Well, my teammates led by Pema sir were gracious enough to show me some footage of what they captured on top of the ridge.
There are no clear trails that take you to the ridge. The only way to get up there is by crawling on all-fours and praying that the moss-covered stones give your steps a good grip. There have been stories of locals falling to their deaths while climbing up to the top. Go ahead, enjoy the view!
The Yak Herding Family
"We're all family here at our Nojangsa," Ap Tshewang tells me. His wife prepares a hot meal for the men who went up this morning to hoist the prayer flags. We're all huddled near the bukhari as it starts drizzling outside.
Ap Tshewang tells me more about the way of life of the Brokpas and how it's important for younger generations to take care of what the parents have continued, pointing at his son. "There are more than 300 families who take their herds and live in these mountains during the grazing months," he explains. But it is a hard life. When families come here during early spring, fresh water is very hard to find because of the cold. "It isn't easy to source water when it's extremely cold and we need water for our daily chores." High altitudes also have less Tsamdro (grazing land) for their herds of yaks which are their main source of livelihood.
Unlike places like Laya and Lunana, the highlands of Merak and Sakteng are not known for cordeceps which is why the Brokpas who live here depend more on their herds of animals for their income. Until less than a decade ago, the people here were also considered to be some of the least educated in the country. "But I'm happy to see more of our younger children complete education. I feel hopeful that it will help our community here" says Ap Tshewang.
Leaving Jomo Kuenkhar
As we prepped to leave the abode of aum Jomo, I sat on a rock overlooking the most stunning sunrise.
What's so unique about trekking in Bhutan? The trails here don't just take you to higher grounds to show you how small the world looks beneath you, but it takes you closer to faraway communities of people to show you how big their hearts are.
The trails here don't just take you higher up steep ridges to make you feel like you've conquered the universe but it brings you closer to a higher power with mythical tales and stories that show you how little you know of the universe. Until we meet again la Jomo Kuenkhar…
Watch Trek Video