What's the Catch today?
To Tshewang Gyelsthen, Catch 34 is more than just a "restaurant". A professional Chef with an experience of 10 years in Australia, Tshewang is back in Bhutan and with him a dream to open a unique dining experience. Under the tutelage of Simon Moss, a famous Australian Chef, Tshewang has various techniques under his belt, from butchering to plating exquisite dishes. It was a dream of his to open a restaurant that features an open kitchen and bring a shift-system working culture in the local food industry. Tshewang also hopes to make Catch 34 a fine dining option for people who relish gastronomical experiences.
Catch 34' s menu is something that you will not find in Thimphu easily. You can definitely anticipate their speciality from their tagline, "From the ocean to your plate, seafood delight awaits!." Their signature dish Crab Seafood Boil is sweet with a slight aroma of seafood served with a medley of veggies like potato, carrot and baby corn. However our eyes were caught by their beautifully plated, Pan Fried Salmon.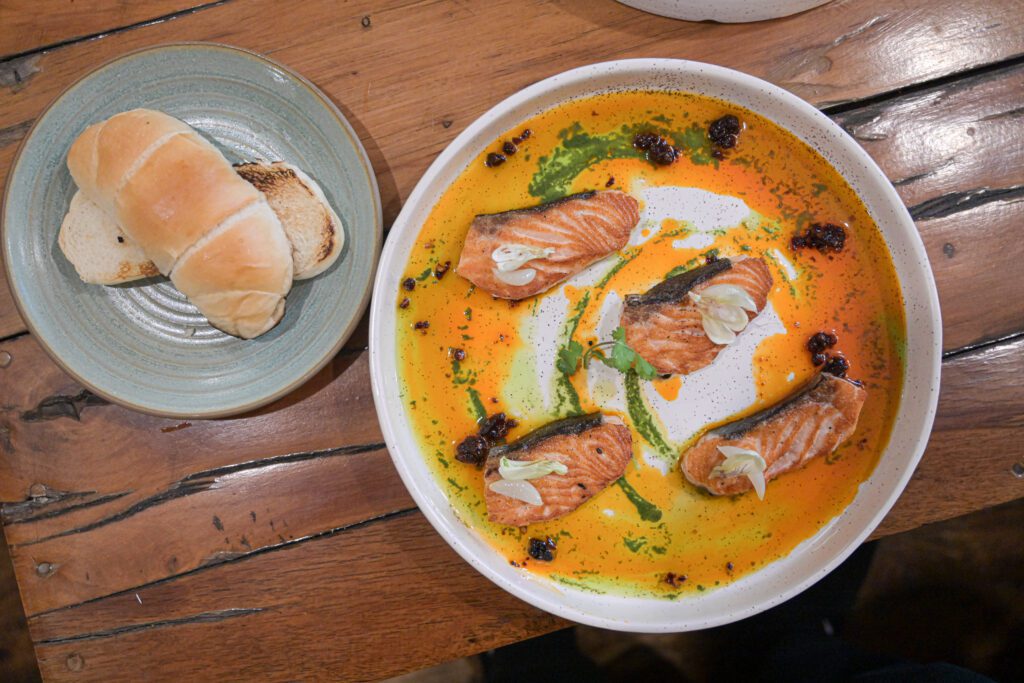 However if you are still unsure about trying seafood, you cannot go wrong with their Pork Ribs. Tshewang told us that he buys whole pork and butchers it himself before brining it for 6 hrs in a herb concoction and letting it rest for 2 days before roasting. To wash down these indulgent eats, you can order any classic drinks and cocktail from their open bar.
They also provide 3 am delivery and are open the whole night from Friday and Saturday.
Details
Location: Opposite to Bhutan Post
Downstairs to Lungta Handicraft
(Closed on Monday and Tuesday)
Contact : 77724537
For more similar restaurant stories and recommendations click here
Google map directions here