Are you looking for a unique stay while traveling in Bhutan? Well, you might like the idea of a farm resort. A farm resort blends together the comfort and luxury of a hotel with the immersive experience of a homestay. You can also enjoy special garden tours and taste the best of organic goodness here. Welcome to Dhumra in Punakha.
How to Get There
So the road up to Dhumra is literally an uphill task – meandering through the rough feeder roads in Punakha's midday weather. Tip: don't follow google maps on this one (we ended up on a dead end trail) Take the paved road on the left of the famous view point overlooking the Punakha Dzong right after you cross Punakha school. So after whining about the 2o minute bumpy ride we reached the farm resort and soon we forgot about the bad road. Dhumra opens like a passage to Paradise as we slowly enter the traditional stone-clad gate.
About the Farm Resort
We are greeted by the owners of the farm resort, a happily retired couple, who describe the property as a home away from home. Dhumra is a small resort with only 6 rooms but intentionally so. "We don't want it to be a commercial resort hence the small number of rooms. We actually constructed it as a writer's retreat at first," says Sangay Wangchuk who is a writer himself. He once worked as a travel magazine editor and also authored the book 'Seeing with the Third Eye: With Grandma in Rural Bhutan'. But in no time Dhumra became a tourist-favorite with rooms being sold out during tourist season.
The main Farm Special suite is in the family's renovated traditional home overlooking the Punakha Dzong (probably one of the best views of the Punakha Dzong I've ever seen) and is styled with a mix of traditional and modern design.
Rooms
Honestly, when I walked into my room, I really thought I was staying at a 5 star resort. The elegant style and the beautiful blending of a traditional designed space with modern luxury décor will get you thinking that too.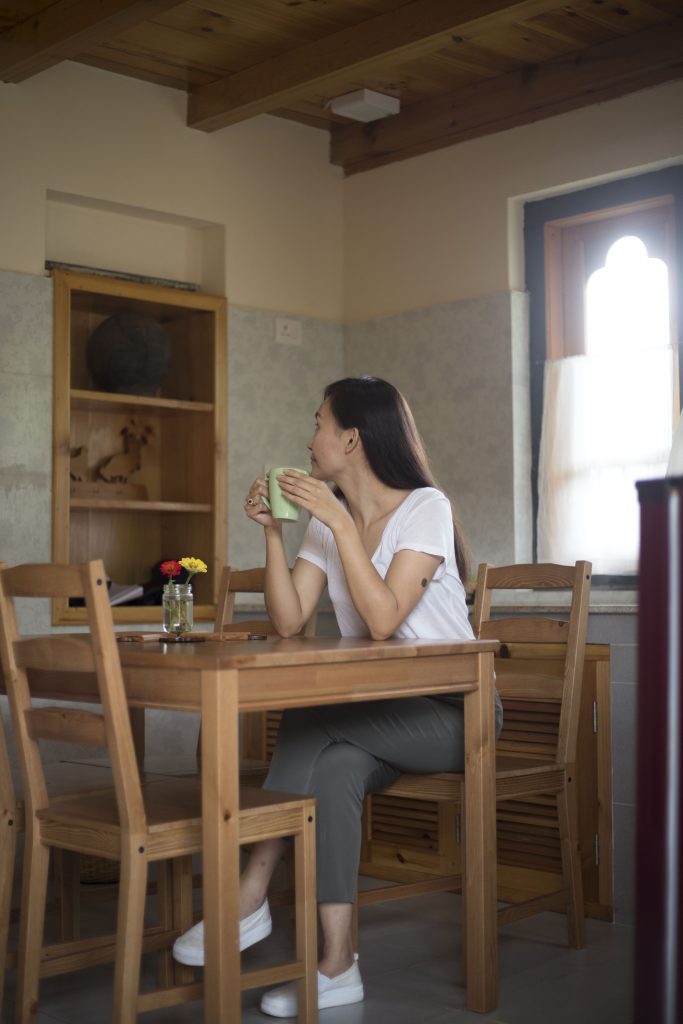 I was put in Dhumra's Farm Special room – a beautiful space created in the family's old main house. The room opens like a mini villa with an attached Swiss-style kitchen. The bedroom windows overlook a magnificent view of Punakha valley and the Dzong (the view at night is breathtaking). The resort's 5 twin bed rooms are priced at Nu. 2500++ per night (breakfast not included) & the Farm Special room with the attached kitchen is priced at Nu. 3000++ only.
Highlights
Morning Farm Tour: Dhumra has a beautiful property filled with fruit trees and kitchen gardens that grow almost everything. The fresh smells of lemon, peppermint, basil waft my senses as we walk through tall avocado trees, short lemon trees, basil bushes and salad green beds. "We shall pick avocados today," says a gleaming Aue Sangay as he helps us make our way through his garden. Aue Sangay believes in the traditional way of farming – letting vegetables grow according to its best suited season. "I don't believe in green houses. Due to the demand off season plants are grown which is why it doesn't fruit the way it should."
2. Dhumra Breakfast with a View:
I don't think I need to describe anything here. Just look at the picture.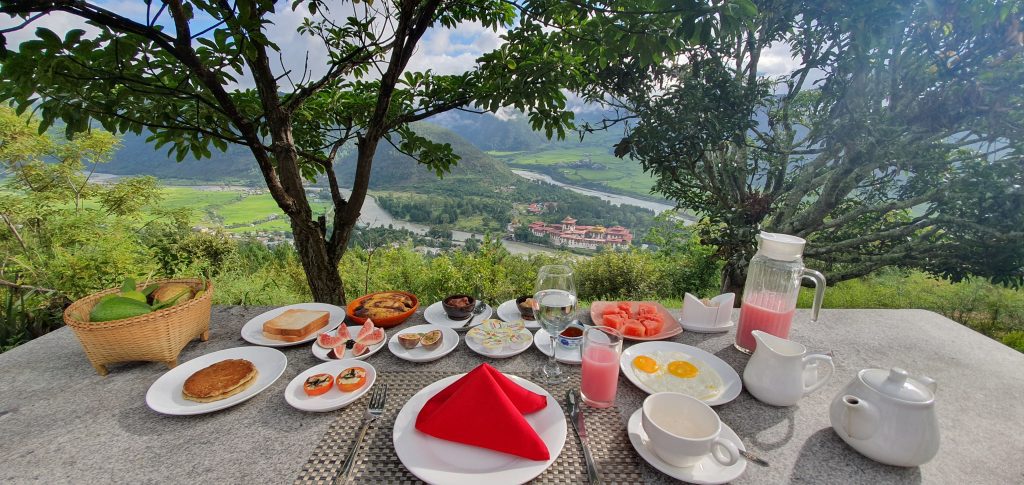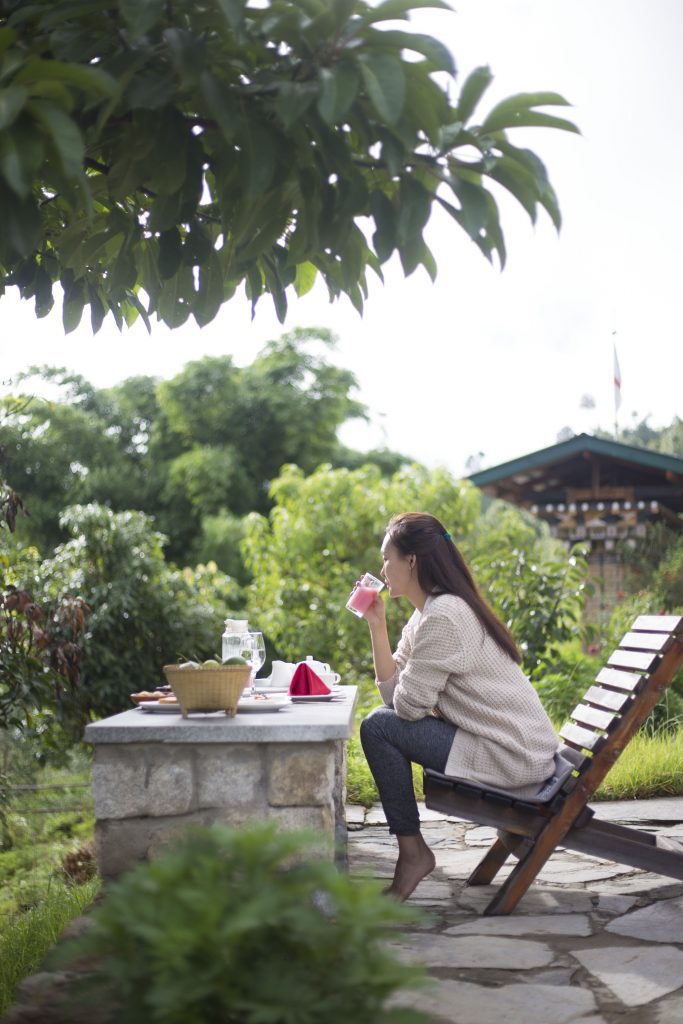 3. Farm to Table Experience: What they grow is what you eat. From fig ice cream made with garden figs, fresh mango slushies, avocadoes on toast and lemon tarts, the food at Dhumra is a beautiful blend of organic flavors and yummy taste. The farm resort also has an outdoor kitchen where they demonstrate local traditional recipes like radish salad with datsi and dengo (a traditional flour dough). Try it once.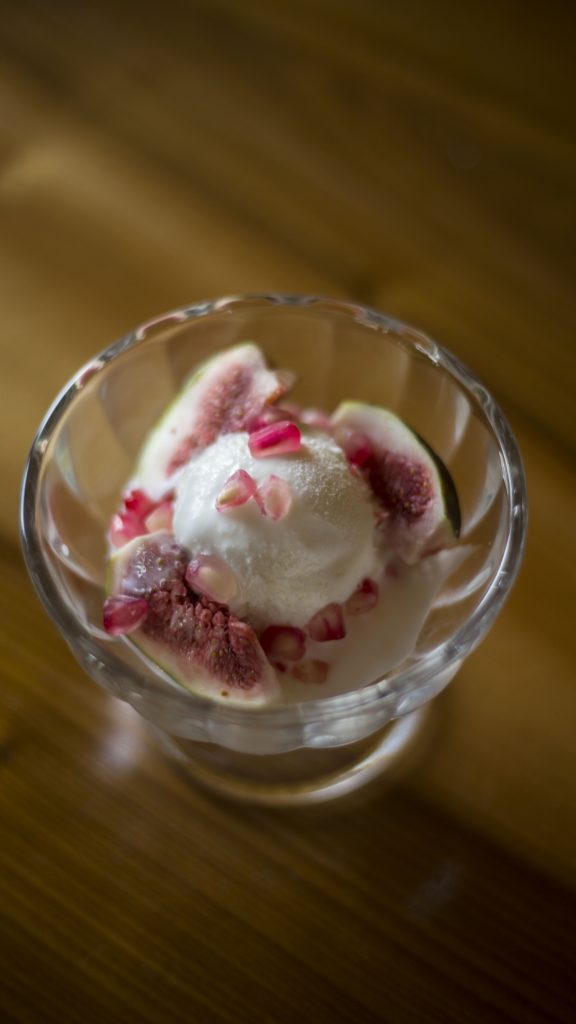 Contact:
Love what you see? Contact the farm resort on their social media Dhumra Farm Resort.