Are you a traveler that loves to eat and also love breathtaking views from your hotel room? Then you'll love this list of the best places with 'Breakfast with a View' in Bhutan. There are countless hotels and lodges with beautiful locations around the country but there are very few that understand how to present those views to their guests through unique inhouse experiences. A delectable breakfast with sweeping vistas of the landscape from your hotel/lodge can make any traveler want to stay just a bit longer.
Dhumra Resort in Punakha
Perhaps with the most beautiful aerial view of the Punakha Dzong, Dhumrah Farm Resort in Punakha valley is our first recommendation. Their breakfast with a view is an experience in itself. You can first spend your early morning walking through the farm's fruit and vegetable garden and pick what you would like to add to your breakfast. This morning walk is followed by a stunning breakfast spread with homemade buckwheat pancakes, fig jam, avocados and other fruits (depending on the season) on the resort's stone wall table overlooking the early morning vistas of Punakha valley. Each season is nature's canvas and you can enjoy the valley's full colors from here. You can find more details about this farm resort here.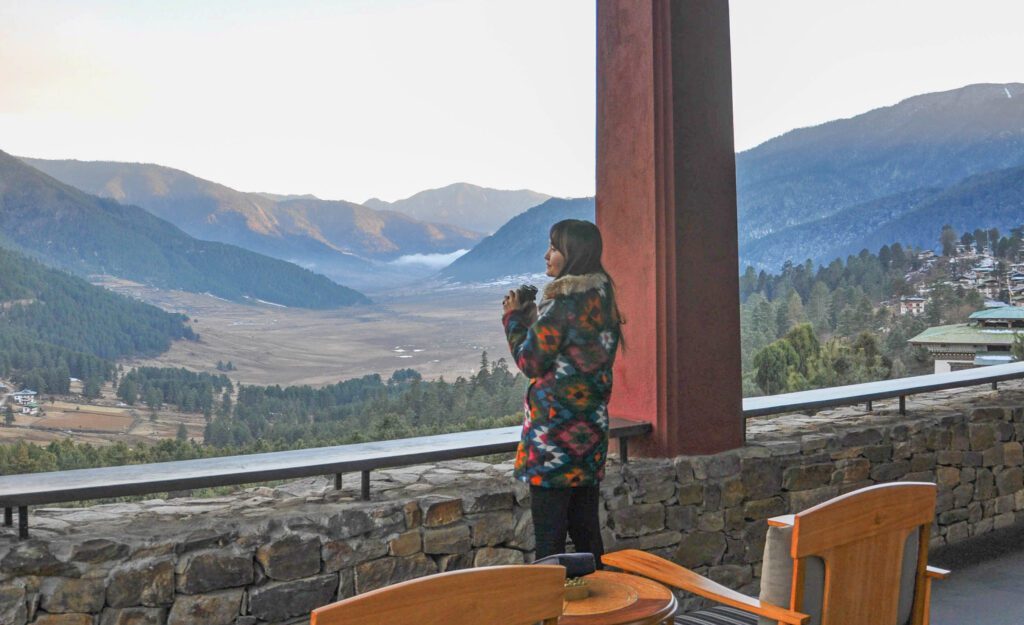 Gangtey Lodge in Phobjikha
Phobjikha valley is famous for its breathtaking broad valley views. One of the best vantage points to enjoy the landscape's splendor is from the balcony terrace of Gangtey Lodge. Something about Gangtey Lodge makes you think of a remote monastic retreat in the mountains. As the early morning mist whisks away to reveal the valley's open glades, you can enjoy Gangtey Lodge's special breakfast menu with locally-sourced ingredients. It doesn't get better than this. You can find more details about this luxury lodge here. 
Himalaya Keys Forest Resort in Paro
Have you ever dreamt of waking up in the middle of a pine forest? Having your morning coffee against the wide windows at the Himalaya Keys Forest Resort will make you feel lost in the woods but with comfort. The chirping birds, the blue mountains of Paro, the lush green pine forest, the smell of pine drenched in the early morning dew – what more can you ask for to experience a tranquil morning with your breakfast? You can find more details about this farm resort here.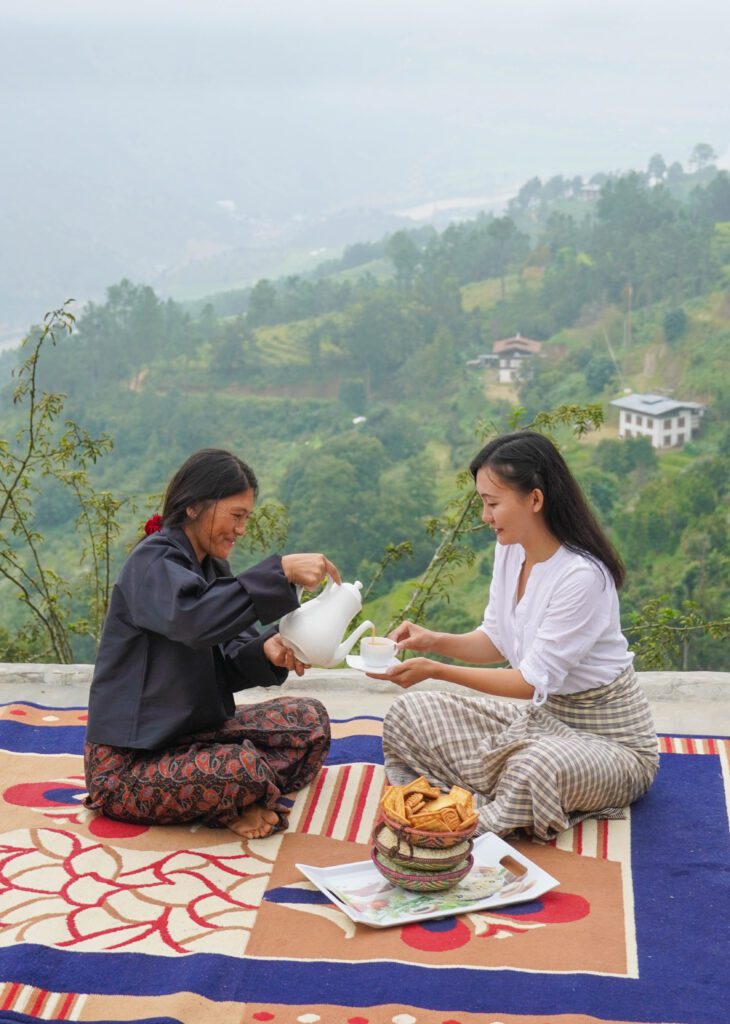 Leki Wangmo Homestay in Punakha
Do you love the idea of having home cooked food in a cozy traditional home setting? But you also want to enjoy a wide landscape of kitchen gardens and terraced fields spread across the hills? Well you'll love the mornings here in Laptsakha at Leki Om homestay then. The homestay's roof terrace, often used to dry chilies and persimmons in fall, is the perfect space to enjoy lower Punakha's hills and also a nice cup of suja and zaw. You can find more details about this farm resort here. 
Lingkar Lodge in Trashigang
If you want to wake up to high ridges and warm air in eastern Bhutan; then you'll love the sight of greenery from Lingkar Lodge in Trashigang. Tucked in between the lower ridges below Rongthong, this lodge is a refreshing delight. Surrounded by fruit trees (persimmon, bananas, guava, avocados, oranges) and small rice fields, this family-owned lodge is a beautiful paradise in what most travelers described as a far-flung destination in Bhutan. You can find more details about this farm resort here. 
Chumey Resort in Bumthang
Welcome to one of the most beautiful valleys in central Bhutan, chumey valley in Bumthang district. You can enjoy the beauty of the landscape of buckwheat fileds, old palaces, temples and autumn black necked cranes at Chumey Nature Resort. Located admidst the pine forests of Chumey, there's so much to take in as you look around the landscape. You can enjoy this experience with luxury comfort at this resort in Chumey. For more details on the resort click here.