Behind Punakha's Forest Hills
A few years ago, I had heard of a distant homestay behind Punakha's forest hills away from the valley's more popular open rice fields. "The road's not very good but it's worth it," someone told me. "Ama takes such good care of whoever visits her home." "Ama?" I asked.
Little did I realize how a short weekend getaway would make me fall in love with homestays all over again and rediscover what true Bhutanese hospitality really is. Welcome to Ama Om's Homestay in Jangwana, Punakha.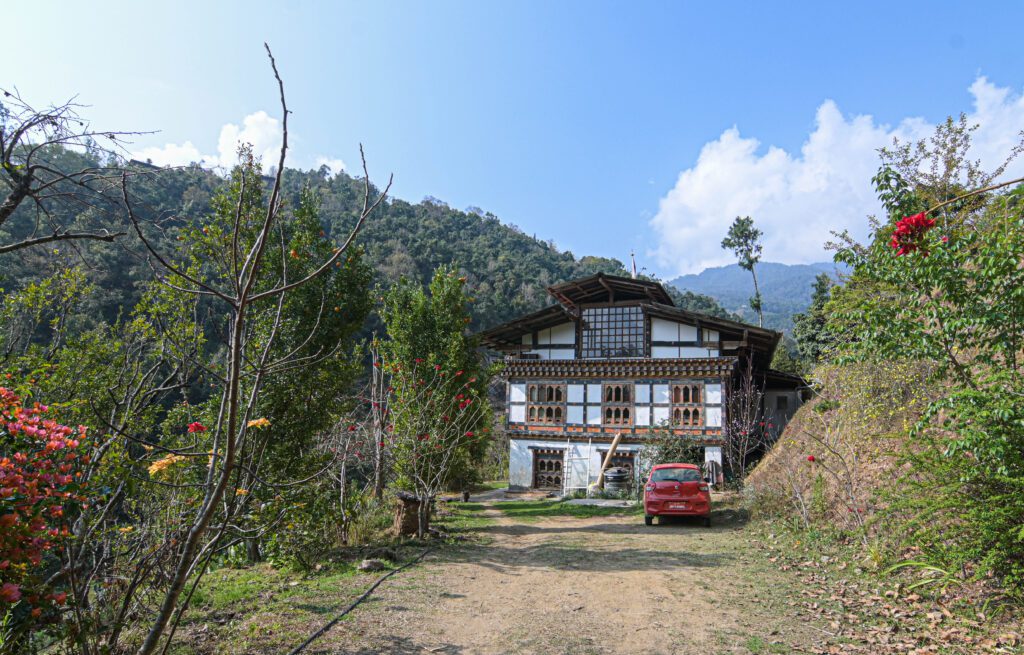 Ama Om Homestay
Located 20 mins away from the junction towards Zhingkham Resort after crossing Punakha Dzong, Ama Om's Homestay is a tranquil little escape hidden behind layers of forest hills routed with meandering farm roads. (Take the left course on each turning) But you'll forget about the confusing road map as soon as you enter the small village gate and set your eyes on the magnificent ancestral home.
You'll be greeted by Ama Om welcoming you with a Khadar and warm smile. "I've been meaning to invite you here since 2019," Ama Om tells me. I had planned to come here since then because I had heard so much about the food, the rooms and a beautiful hot stone surprise next to the farm creek. And as Ama led us into her small yard with wooden trunk seating overlooking steep hills spread with farmlands, I was so grateful that I was finally here.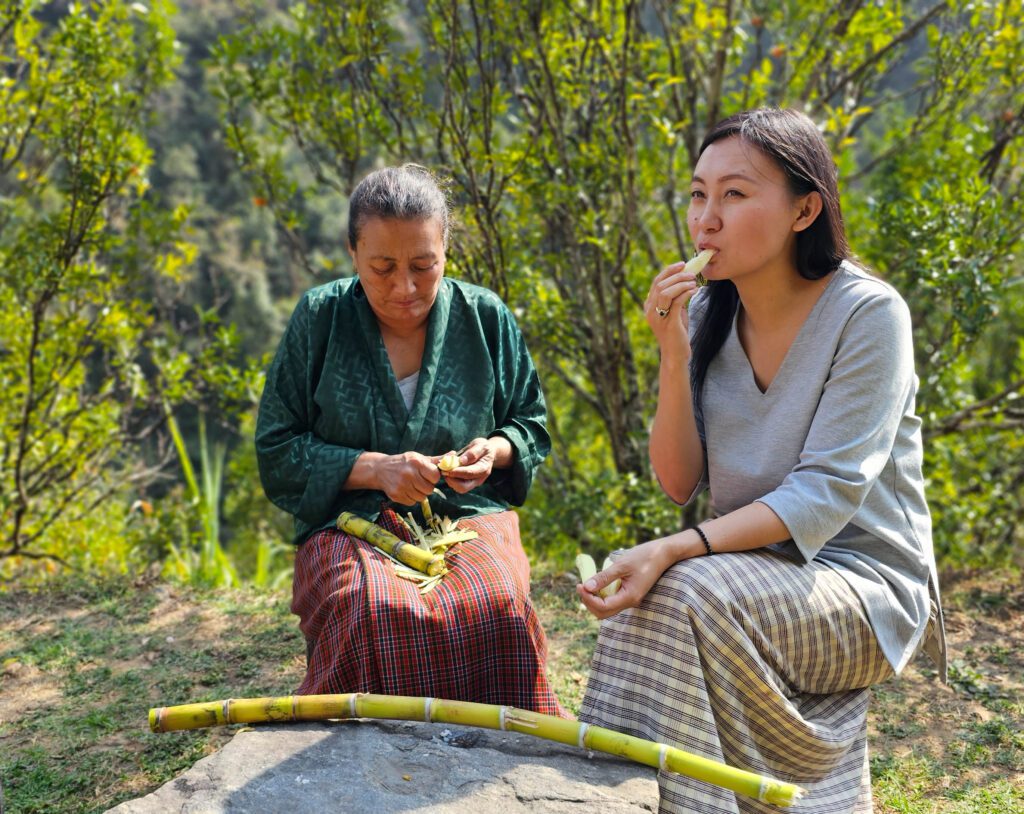 Upon arrival, Ama Om serves hot tea and a special rice dish to arriving guests. Mengye is a flattened rice dish smeared with a pepper and perilla mix cooked in butter and egg. People tend to call it the "Bhutanese Pizza" but I beg to differ. The chewy delicious mengye with suja with a setting sun for an evening view made the arrival all the more splendid. Stay tuned for more as I explore Ama Om's homestay accommodation in Punakha.
Homestay Tour
Ama Om belongs to a big family and as I perused through the collage of family photos on the wall, I recognized her famous big brother Azha Karma, the father of Bhutan's contemporary art movement. I could see the resemblance now. "If you see any creative design around the house, it's all him", says the proud sister.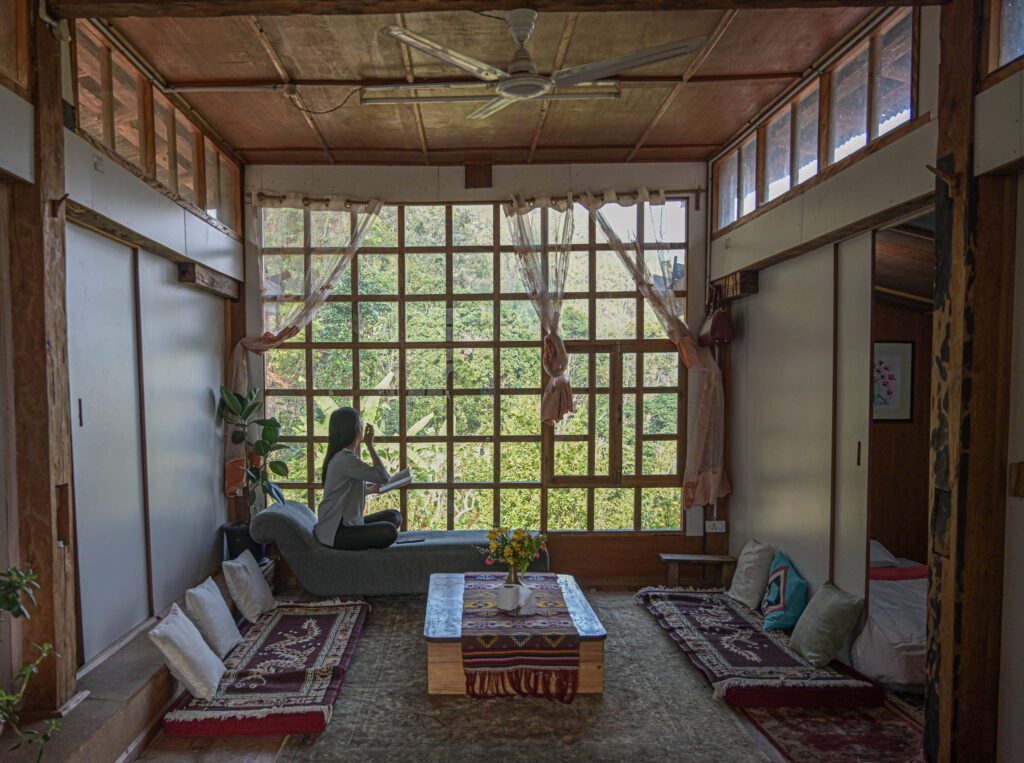 The entrance to the home leads to a cozy kitchen (like most traditional Bhutanese homes) but unlike most Bhutanese kitchens Ama Om's kitchen is equipped with 5 stove tops. "I like to cook and feed people," she says laughing. The middle floor are where the family rooms and altar room are located. I wondered where the guest rooms were as most homestays in Bhutan dedicate guest rooms on the same floor. But slowly ama led us through a steep staircase to the attic. "But don't people usually use attics for drying meat and vegetables ama?" I asked. "When azha brought his art students here during family functions, we didn't have enough space so he designed a place for the children. We then added guest rooms for visitors." You'll not believe the reveal at the top of the staircase.
Adorned with a floor to ceiling French window, the guest lounge is a dream space for anyone looking for a tranquil meditative space. With floor seating and warm sunlight seeping through the window panes, you can't help but feel embraced by a space. The guest rooms are low ceiling cozy extensions added with plyboard divides creating four comfortable bedrooms with huge mattress floor beds. This was a design style I had never seen in Bhutanese homestays. "I'm like a grandmother making rooms for dozens of grandchildren. I like bringing tea and food here as guests spend time chatting in the lounge."
Ama Om's Special Hot Stone Bath
Hot stone baths and homestays always go hand-in-hand in Bhutan but have you ever experienced a setting like this?
I had heard of Ama Om's hot stone bath setting below terraced rice fields near the farm's freshwater creek that has the most beautiful mini waterfall gushing over large stones and stream pebbles. Piles of river stones are stacked over an open fire and as the stones begin to glaze, one by one they are gently placed into the wooden tubs filled with water.
The hot stones simmer leaving a thick cloud of steam. The tub adorned with artemisia leaves soon becomes boiling hot and that's when you muster up the courage to dip your toes into the hot water. The relaxing hot tub next to the fresh water stream is an experience quite rare in most Bhutanese homestays. If the tub's too hot for you, you can dip your feet in the stream or even sit under the small waterfall. Now that's something you don't get to do everyday.
Homecooked Food
I always say that if you want to taste good Bhutanese food, go eat at a homestay. And Ama Om loves to feed her guests. From a hearty breakfast filled with farm rice, ezey, eggs and fresh garden vegetables cooked with homemade butter to after tea with totshey (Bhutanese khichdi) and dried beef, you'll taste the best of what homemade meals in village homes are like. Ama Om would constantly ask me what I wanted to eat and although I was still stuffed from breakfast, I couldn't help but think about what she would cook for lunch.
What True Bhutanese Hospitality Really Means
Spending time with Ama Om made me realize what makes homestays such a special part of travel.
When we travel we often discover connections with strangers that we can't really explain. That weekend, for some strange reason I felt like I was returning home to a distant relative. The many ways Ama cared for me and my team felt familial and intimate.
She taught me age old domestic traditions passed on for generations and shared the dilemma of rural homes passing down the heritage to emptying village homes. But as Ama says, "No matter what obstacles arise, we can only teach each other to be kind and loving like family."
To Book Your Stay at Ama Om Homestay
Contact +975 77606530 ☎️