How do I describe Bhutanese cuisine? Yes, Ema (chili) is the first thing that comes to mind but if you ask me I like to describe Bhutanese food as a beautiful blend of vegetables (dried, fresh, boiled, broiled) and dairy…a lot of it. You'll find cheese and butter everywhere. Dried cheese in our stews and dishes, stinky aged cheese in ezeys (similar to the Indian chutney) cheese in our porridges and in liquidated curd drinks. But would you believe me if I say that our food is so much more diverse that what I just listed?
I travel all over the country not just to talk about the travel destinations but personally I love traveling for food. But if you are visitor to Bhutan and you don't have lot of time to go outside of Thimphu, let me introduce you to the general traditional cuisine that you will get to taste as a first time visitor.
I got an invite to Termalinca Resort and spa at their special Apa Restaurant where they serve traditional Bhutanese food. Thimphu has a lot of places where you can try Bhutanese Food from high end fine dining places to adventurous hole in the wall spots.
One of the most distinct components of our cuisine is the rice. We eat a lot of rice in Bhutan in comparison to most Asian countries and the Chhum Marp (red rice) will instantly grab your attention. It has a slighty nutty and gritty texture compared to white rice and it's definitely more filling. The rice is also the very first part of the meal that we put on our plates before we proceed to the other dishes.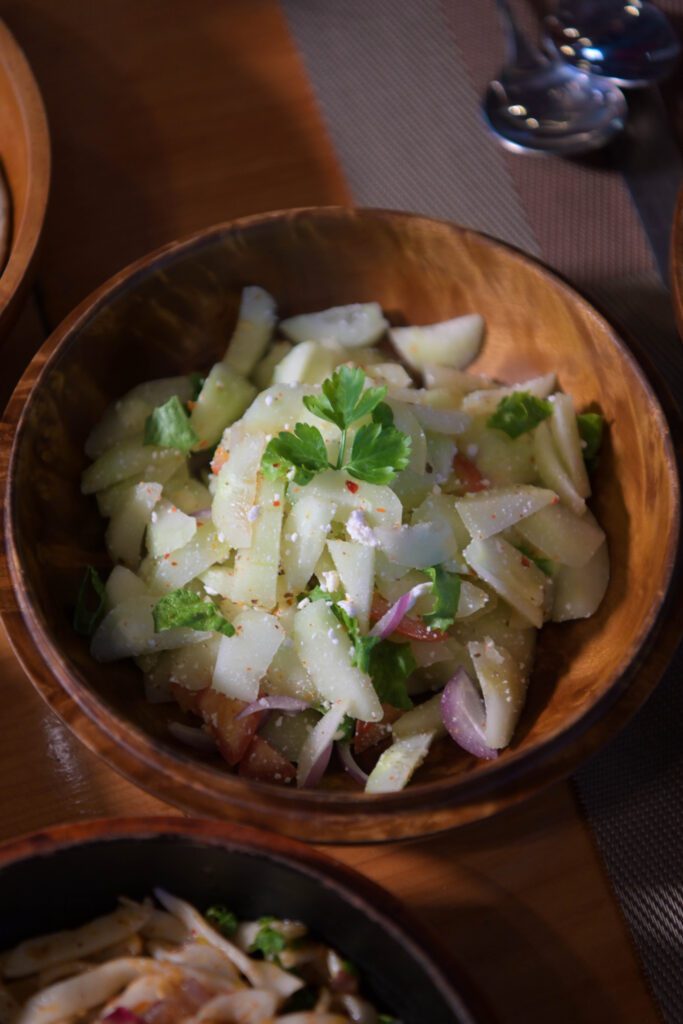 Hogay Cucumber salad with mixed with traditional local cheese. For more heat we add tiny pieces of diced chilies and onions to the salad. This is the closest dish that comes to a salad and the crunch from the cucumbers and its freshness is very refreshing for the palette.
This one might intimidate you the first time you see it but it is a local favourite. Sikam Paa is a nonveg dish that consists of the thickest strips of pork dish broiled in butter with red chilies and vegetables (dried turnip leaves, radish, spinach or potatoes). Of course the first time you see the dish, it might be a little too overwhelming because of the amount of fat but the slight heated sweetness of the chilies cooked with fresh butter and the fat of the pork brings out the most delicious meaty flavours. Tasting the vegetables cooked and drenched in the pork fat is heavenly. There's a reason why Bhutanese love this pork dish so much.
If you're curious about regional food but would like to try something without leaving the capital, you'll find a lot of food from Bumthang in central Bhutan here. Jangbuli, a flat noodle dish mixed with a blend of hot butter, pepper, chili powder, salt and fried onions and garlic has become quite common over the years. Khuley, from the same region is buckwheat bread but some people also called buckwheat pancake with the way it looks. Compared to pancakes, Khuley is bitter and quite tough to chew on. I recommend smearing butter on it first and then trying it with stew to calm down the bitterness of the buckwheat dough.
How about going west from central Bhutan? This isn't a very common dish but ever since my experience at Nobgang village (where this dish hails from) I've been on a look out for the Jatsha Gondo. Very similar to the Thai crispy omelet, Jatsa Gongdo is a special egg dish made by pouring the egg mixture into hot oil through a sieve. It's very popular in Punakha especially in Nobgang village.
Moving further west we have Lom – a braised dish of dried turnip leaves flavoured with fresh butter and dried red chilies. Turnip is especially very common in highland regions of Bhutan where it's difficult to grow other vegetables.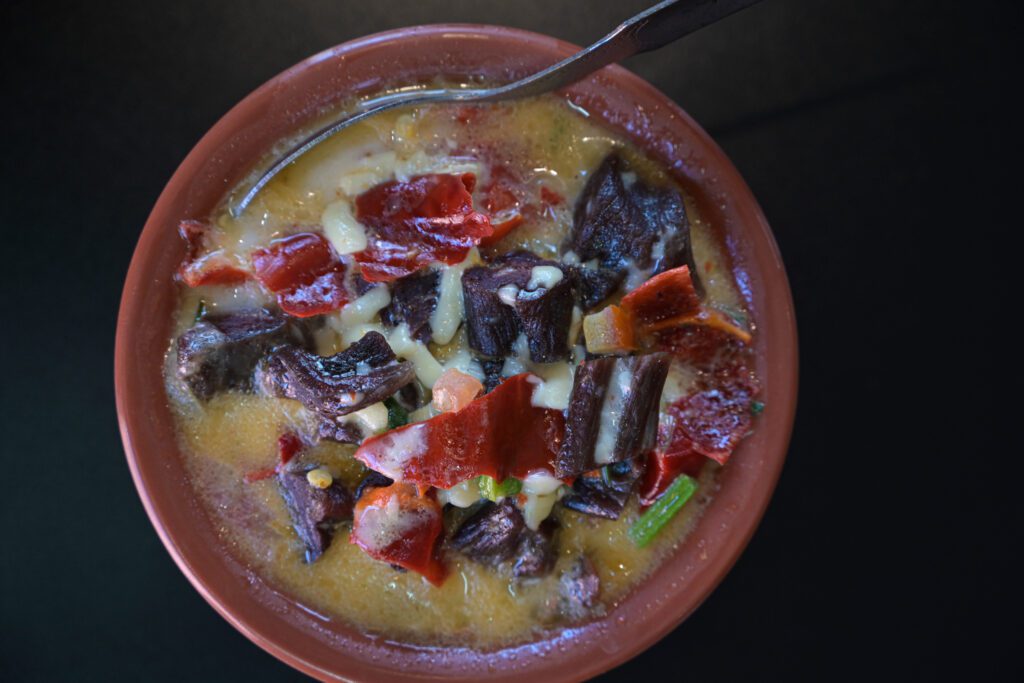 The national dish of Bhutan ladies and gentlemen – Ema Datsi (chilies and cheese dish) At almost every restaurant or eatery, you'll find a different rendition of this dish. Whether it's cooked with dried red chilies or fresh green chilies, mixed with Indian processed cheese, fresh cottage cheese or stinky aged cheese, Ema Datsi is a dish you must try if you ever visit Bhutan.
Looking for chicken in a Bhutanese cuisine? Jasha maru is a chicken stew broiled in fresh butter, minced ginger and garlic and red chili powder. The gravy in this dish is absolutely the hero of the stew.
Jaju is what miso is for Japanese meals. Spinach cooked in a mixture of milk and water, the soup is a delicious side to a Bhutanese meal and helps wash down the dry meat and vegetables and clumps of rice.
What looks like a meat dish is actually an alternative for vegetarians. Jilli Namcho (wood ear mushrooms) is one of the many mushroom dishes that is quite popular in rural villages. You'll also find chanterelles, matsutake and much more especially during mushroom reason in late summer.
Bhutanese cuisine is so much more than just chili and cheese. Besides the range that have been featured here, you'll also find unique fascinating regional cuisines and food that are not really available in the capital. Go to yeegetaway's food stories for more interesting blogs on Bhutan's traditional cuisine.