A Regional Cuisine
How do I describe Khengpa cuisine? (prevalent in southeastern & southcentral parts of Bhutan).
I think it's the only regional Bhutanese cuisine that shares a bountiful relationship with the foothills jungles of Bhutan. Eggs from local chickens, ferns from the forests, corn rice from the forested farm slopes. Wild potatoes, edible flowers, herbs and bamboo shoots. The ingredients and the rich food painted a beautiful picture of nature's scrumptious blessing. It all came together deliciously well. Accompanied with a dimly lit setting with low tables and bamboo mats at Tshachu Eco Lodge in Gelephu. It was one of the most memorable food experiences I've ever had.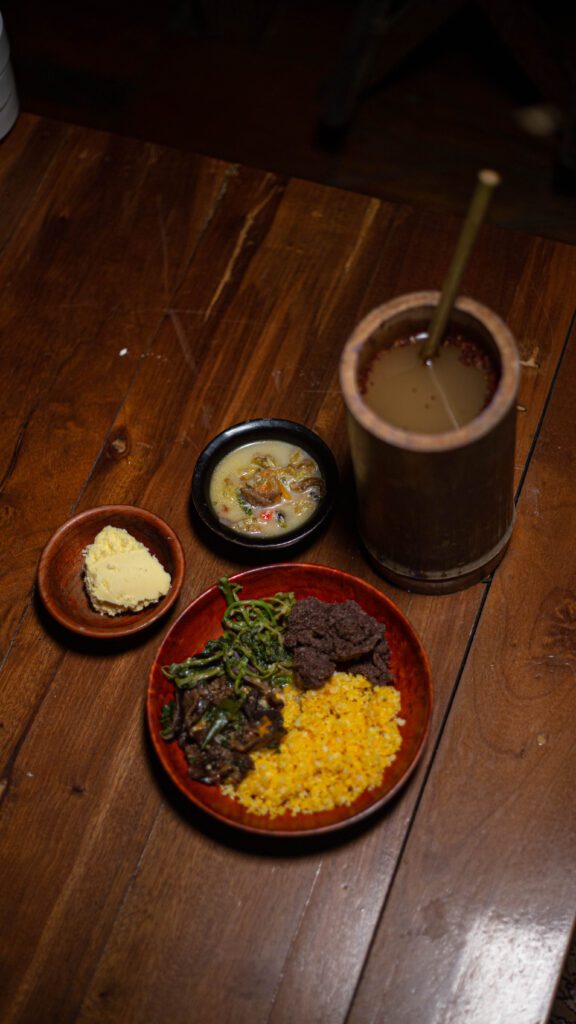 The food at the Gelephu Tshachu Eco Lodge is one of the most unique regional cuisines you'll ever taste in Bhutan. This is Khengpa cuisine. When Ana Dema agreed to show me how they were preparing dinner, I got to see some of the most interesting ingredients on the kitchen table. Picked from the jungles of the southern foothills, the kitchen table had an array of wild plants, roots and ingredients unlike most traditional Bhutanese kitchens. From banana flowers, pea egg plants, strange river spinach, wild potatoes, wild mushrooms that they had foraged earlier in the afternoon, to their famous local alcohol, watching them prepare the food was a visual treat.
Unfamiliar Ingredients of Gelephu
"Uthu sho Nam gila," said Ana Dema as she roasted perilla seeds and grinded them into a paste for the ezey. "This gives a thick gooey texture to the ezey," she explained. Next to her Kota Tashi roasts boiled wild potatoes over the stove fire. "We don't add anything to it. It's best eaten like this with the ezey."
Close to the wooden bowl of Borang Joktang (wild potatoes) I saw a strange clump of what looked like flowers soaking in a bowl of warm water. "This is Khashiling Meto," said Ana Dema. "We cook it in soup with some local cheese." I had heard of edible orchid flowers in these parts but I was told these flowers grow upright on a tree. The leaves of the tree have healing properties. The leaves are boiled and then the remnants are used for massage body aches and sores. "We get medicine from our forests too," they told me.
The small kitchen space didn't seem to deter their work flow as Ama Dema finished cooking dishes at lightning speed one after the other. Just before the main dinner, we were served an interesting platter of wild potatoes, fresh radish and ezey. What's more, the traditional local alcohol Tongba of course.
For more go to tsachuecolodge.com
Trip Partner Mercury Bhutan Travels
For more YeeGetaway stories, click here