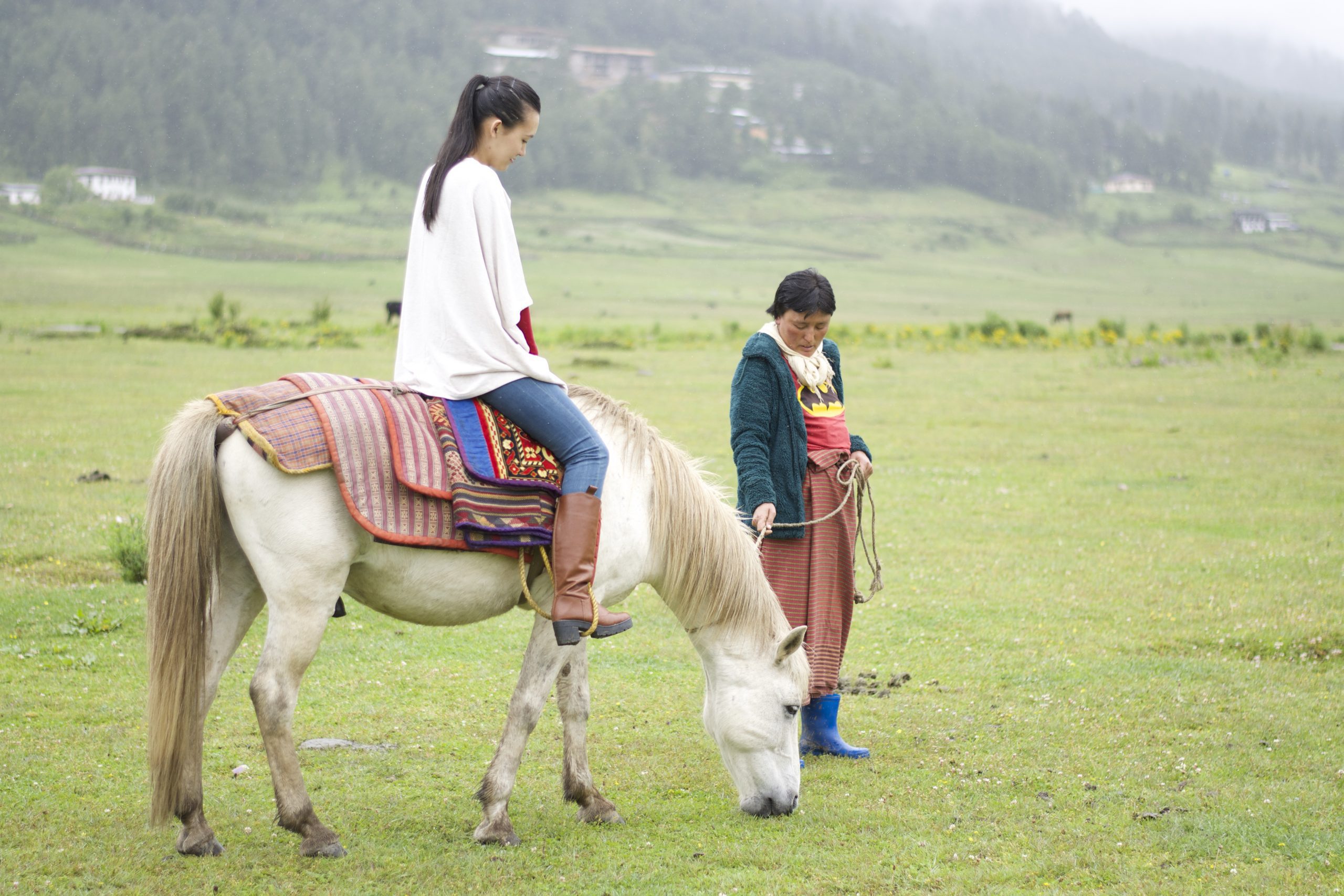 This was my very first yeegetaway travel feature. It was back in 2015. We meandered along winding roads until we reached a vast open valley. Wide open glades of serene meadow green. Mountains colored with spotted hues of green and blue. An unusual silence that city trotters would gladly embrace. An earthy scent of burning cypress dissipating into the sky. Gangtey Valley gives quite the welcome to its visitors.
"Everyone talks about how there is this curtain raiser as you enter Gangtey. But it doesn't prepare you for the beauty of it when you see it," exclaims my friend Namgay Zam.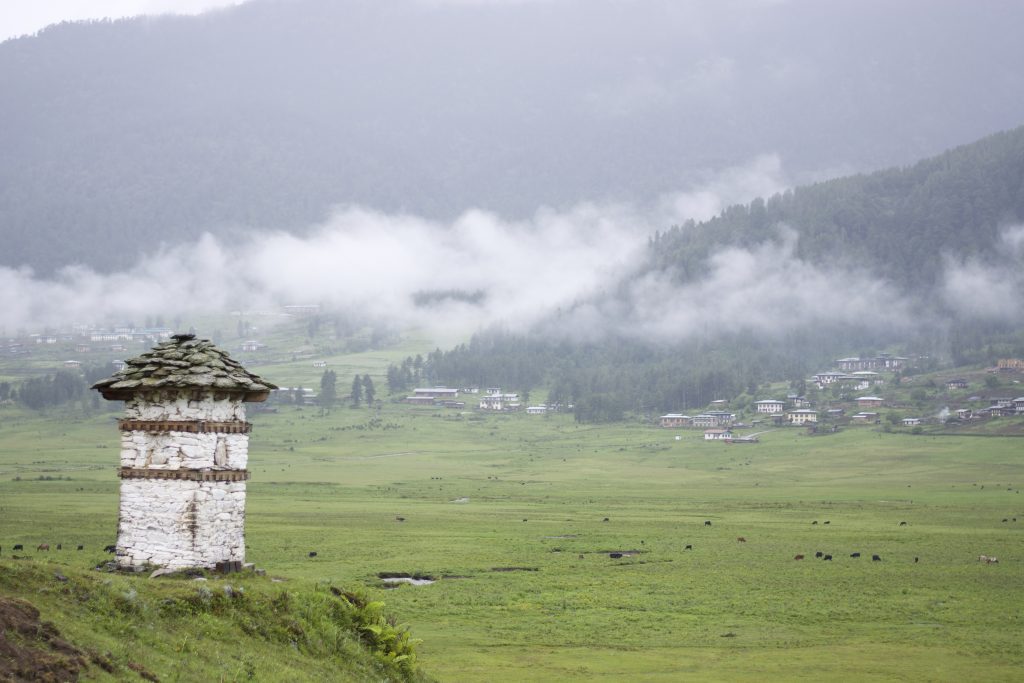 I had always been confused between Gangtey and Phobjikha. Gangtey was named to the portion of the wider Phobjikha valley that fell below the Gangtey Monastery on the hill. Gangtey literally translates as on top of the mountain.
After a strenuous road trip from Thimphu, we finally arrived at our hotel – Dewachen. We were all looking forward to the warm bukharis in hotel rooms. The summer rains can send quite the chill down your spine even in a place like Phobjikha.
Dewachen Hotel's simple architecture blends in earnest with the valley's landscape. The timber-clad structure feels grand yet inviting. We were disappointed that the rooms didn't have TV (city slickers what can I say). We soon realized it was part of an experience that we would cherish over the next few days.
The next day, we set out to shoot the first program on our itinerary. This was for the "10 Things to Do in Gangtey" travel video. The first segment took us to visit to the Gangtey Jabjeling Shedrah monastery.
Built in 1985, the Shedrah was renovated in 2010. This was the initial meditation centre of Je Gayduen Rinchen. The Khenpo was kind enough to invite us to his class in the temple. Meditation sessions are still conducted by the Khenpo of the Shedra based on the interest of the visitors. Meditation seems calming when you first think about it. The short 5-Minute meditation proved quite exhausting for an impatient person like myself. I found myself struggling to take a quite breath afraid to distract the others in the room. Namgay looked like she had everything under control.
Guiding through Gangtey's Sacred sites
We met Lopen Yeshey at the Shedrah. He soon volunteered to be our guide during our stay in the valley. He says that he always knew he wanted to become a monk. "My parents wanted me to be educated in school. I waited till I completed high school and finally joined the monastery." His company brought a more nuanced view on the many sites we visited.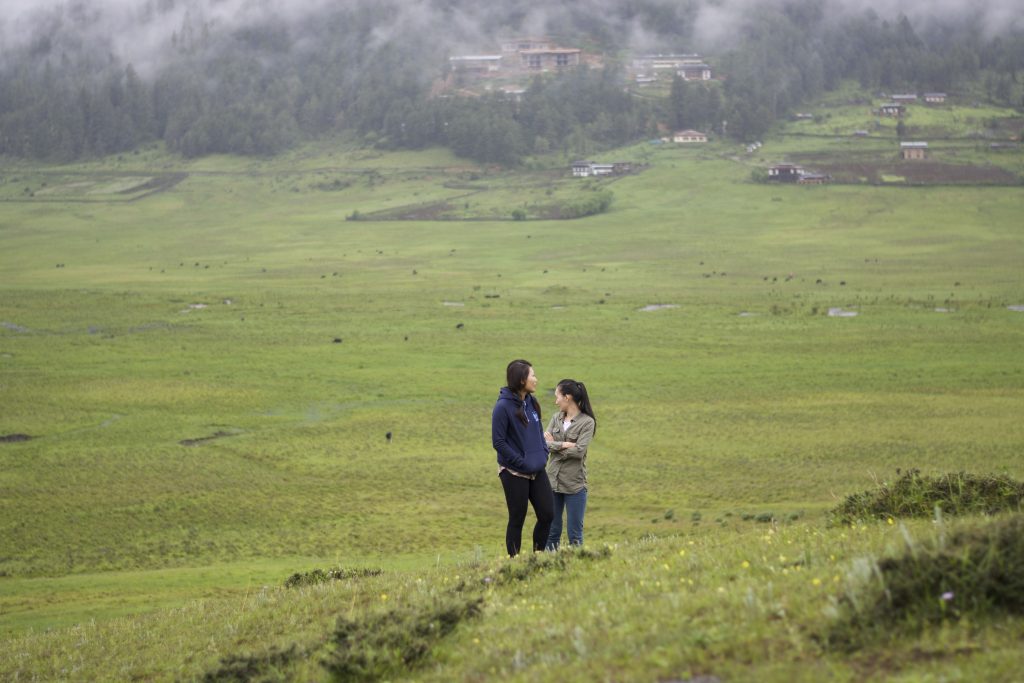 Our visit to Gangtey coincided with the Kurim performed annually at Gangtey Monastery. Despite the pouring rain, many people had gathered to witness the mask dances at Gangtey Goenpoa. We were fortunate enough to get a spot to shelter ourselves and join the crowd in prayers. "We normally perform those dances in tshechu which is just after the end of drupchen of 7 days," said Lopen Yeshey when we asked about the Kurim.
Horse-riding & Summer Hikes
To be honest, we weren't prepared for horse-riding. We met Dhendup and Dawa that afternoon. Adorned with traditional saddles, Dhendup and Dawa gave us a beautiful tour of the open meadows of Phobjikha. They would also take regular breaks to gnaw on the fresh meadow grass as. "I don't normally enjoy riding on the animals, it's just how I am," said Namgay. "But I think if you're here with your children, they'll definitely enjoy exploring the valley on horseback."
If horse-riding isn't for you, there's another way to enjoy the glades here. Take the Gangtey Nature trail. It starts from the farm road below Gangtey monastery and takes you into the pristine meadows of this valley. In winters you can also take a spot to watch the black necked cranes in their roosting area, in the middle of the valley. "No constructions or interventions of any kind are allowed," we're told. "This place is only for the cranes".
We realized why we took this trip in the first place as our getaway here came to an end. In time, we often lose our connection with our landscape. We fail to seek a deeper understanding of our environment's relationship to its people. From meditating in monasteries, to listening to stories of the Thrung Thrung descending into the valley. Gangtey gave us a new perspective on the Bhutanese way of living. 
"I like that there wasn't a sense of being rushed," reflected Namgay Zam at the end of the trip.
"Of course we were on a schedule. We had  to reach a certain place at a certain time. But it was always at a pace that was reflective and relaxed. I liked that. It was raining the whole time we were there but that didn't hold us back. It added to the beauty. How wonderful it smelled, how fresh, how lush. The beauty and the silence of the place was what I enjoyed the most. We have so much in Bhutan. Go to Gangtey if you want an experience to come alive. You are removed from everything else. You spend time with yourself. Perhaps you might discover parts of yourself that you have lost. Especially for people living in Thimphu, you might want to go to Gangtey to find yourself or parts of yourself."  
And I couldn't agree more.