Location: Mongar District, eastern Bhutan
There's a sacred waterfall site in Aja Ney that is considered to be the bathing pool of Guru Rinpochhe.
Aja Ney is one of the most sacred pilgrimage destinations in Bhutan with over 100 sacred Neys (sites) of Guru Rinpochhe. It is believed that one good deed done in this place is equivalent to a 1000 good deeds and one chant of prayer is equivalent to another 1000.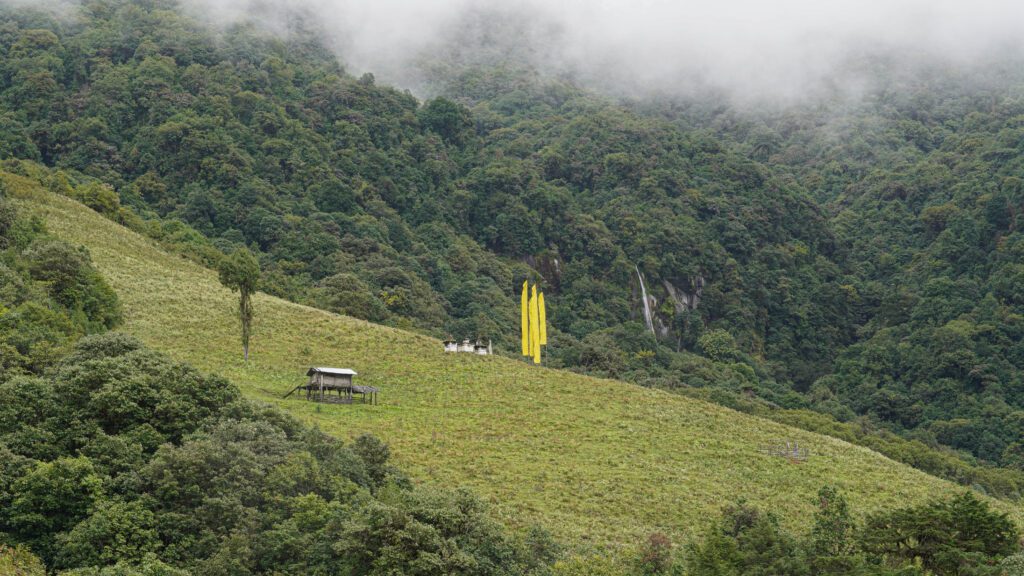 How to Get there
It takes a one and half day travel to Mongar district. From the highway towards Trashigang, you take a detour towards Shermung village. A 2 hour bumpy farm road drive then takes you to Yarab village and then you need to walk for 6 hours to Aja Ney valley.
The Walk to Aja Ney
The horizontal trail is relatively easier than most treks in Bhutan. It takes you through dense forests, bamboo groves and steep slopes overlooking rapid rivers. As you arrive closer to the valley, you'll see scores of ancient stupas scattered along the trail.
Uma Chhu, Aja Ney
"There is a very sacred Ney that you must visit when you come here," Agay Tshampa told us as he led us into the thick forests up the mountain above his tshamkhang. As the muddy path slowly came to an end and the darkness covered by the tall trees faded, the most magnificent natural landscape graced our sights. "Guru Rinpochhe Thrue Nangsa," (where the Guru had a bath)
Welcome to Owo Chhu in Aja Ney.
The Tshampa told us that you must dip your entire body in the water and it'll cleanse your being. "Look closer at the middle of the pool," Agay Tshampa said "You'll see a deeper tub. That is where the Guru sat." It had started drizzling when we got there but I wanted to give it a go anyway. In the freezing water I dipped myself three times and prayed to the Guru. By the time I did the third dip inside the tub in the pool (which was a bit frightening) I felt the water get warmer.
"Dra Dra bumo" (good job), I could hear the Tshampa behind me. I think he was surprised that I decided to enter the water in the cold. "People keep calling it Awa (feces in the Bhutanese language) Chhu because Awo Chhu gets mispronounced. It is not Awa Chhu. It was when Vairochana Rinpochhe Ngawang Jigme Jigten Wangchuck visited in 2021 that he renamed the water as Uma Chhu. Awo/Uma refers to the core and essense of our Guru Rinpochhe's energy from which this water flows from. This is why the water here is considered to be very holy."
Please note: If you want to be blessed by the Uma Chhu, you have to be careful as the water flows on a dangerous cliff. Agay Tshampa also shared that a woman slipped on the moss and fell off the cliff but was miraculously saved when she landed on the shallow pool below the cliff. But a monk wasn't as fortunate as he slipped and fractured his skull and passed away in Korila.
Important Contact:
Aja Ney Eco Guest House Price: Nu. 100 per person per night
Tip: Rural guest houses don't come equipped with sleeping arrangements so carry your own sleeping bag, toiletries, towels, etc.
Contact 77223313 to book your room, horse, porter for your trip to Aja Ney.
Please note: The guest house does not operate like a homestay or hotel so make sure you arrive on the exact date as per your booking as rooms are often given based on who arrives first.