What comes to mind when you think about travel in Bhutan? Snow capped mountains? Remote monasteries on cliffs' edges? Red robed monks with prayer flags in the background?

Can I take you somewhere else that might make you rethink about destinations in Bhutan? Where betel nut trees and bougainvillea bushes embellish the plains? Where sunsets linger longer and make the surrounding landscape bask in its evening glow? The warm weather might remind you of crowded cities but life is slow here and wonderfully tranquil. This is Gelephu in Sarpang district like I've never seen before.

Come with me on this journey as I discover unseen southern Bhutan.
1/ Stay at Tsachu Eco Lodge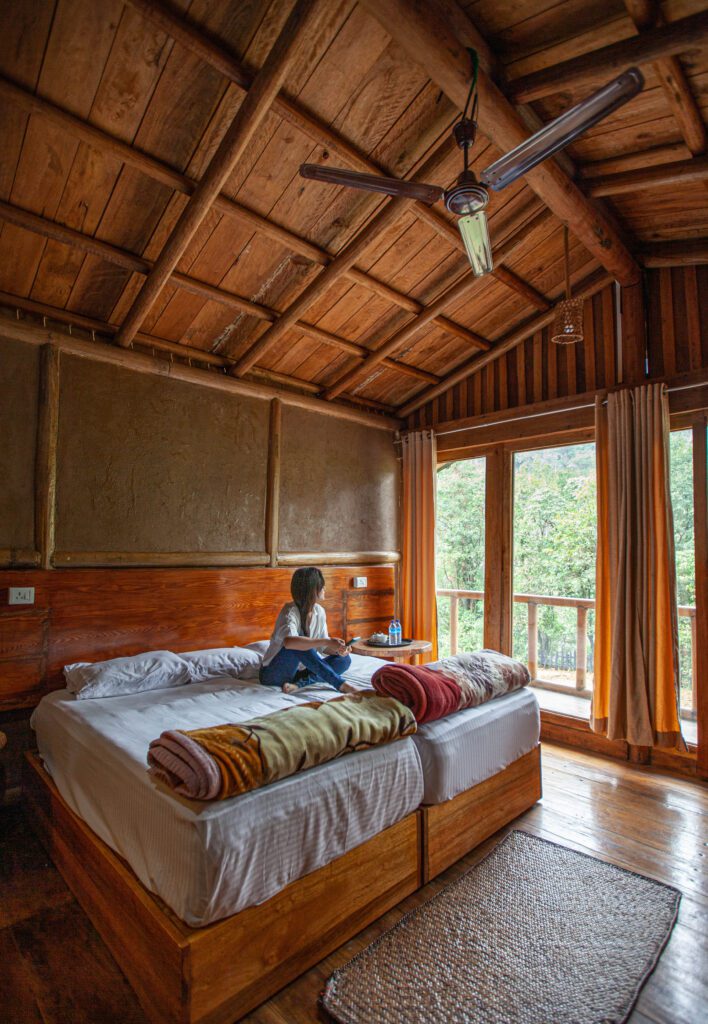 This place is a dream for those looking for a jungle retreat. The sound of chirping birds, the river below the hotspring, monkeys swinging on flimsy branches…the musical notes sound different here. But as the evening sun sets, the flight of the magnificent hornbills echo across the hill. I spent my evening on the lodge terrace before Ana Dema, the lodge chef, calls me to come for Tongba before dinner.
2/ Try Khengpa Cuisine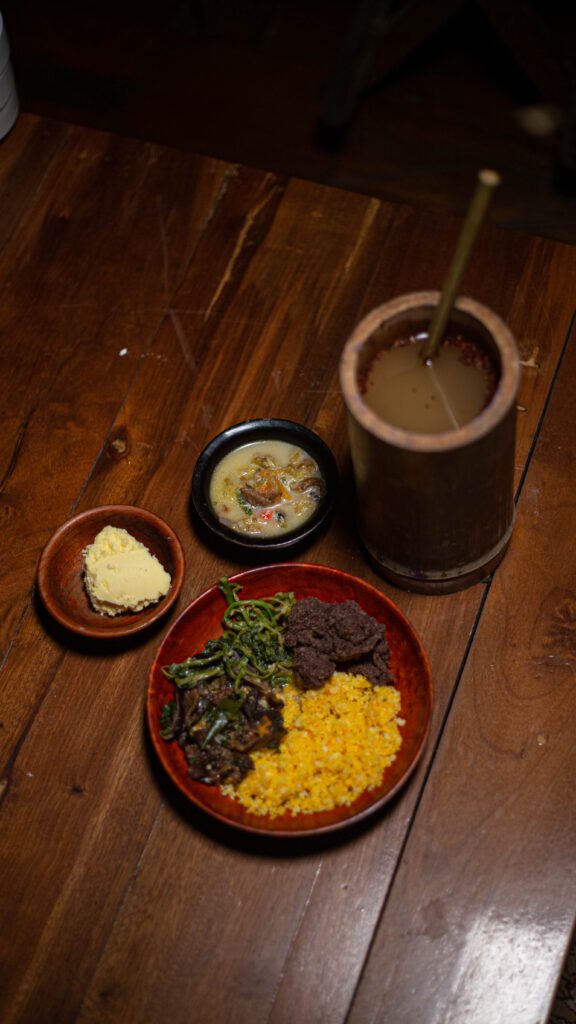 It is one of the most unique regional cuisines you'll ever taste in Bhutan. This is Khengpa cuisine. When Ana Dema agreed to show me how they were preparing dinner, I got to see some of the most interesting ingredients on the kitchen table.
Picked from the jungles of the southern foothills, the kitchen table had an array of wild plants, roots and ingredients unlike most traditional Bhutanese kitchens. From banana flowers, pea egg plants, strange river spinach, wild potatoes, wild mushrooms that they had foraged earlier in the afternoon, to their famous local alcohol, watching them prepare the food was a visual treat.
3/ Pema Village Tour
The beautiful highway towards Pemaling is one of the most scenic road trips I've ever taken. The drive takes you along picturesque one-storied homes surrounded by banana and betel nut trees. The settlements are spread out on a part of the terrain where the hills meet the plains.
We make our way towards the village of Pemaling with barely 70 residents. The small mud houses feel cool in the spring warmth.
4/ Camp Near Gelephu Tsachu
About a 20 minute walk beyond the crowded Gelephu hotspring, you'll find such breathtaking pockets of little southern paradise. You can either choose to camp overnight or spend a few hours cooking, enjoying the view, basking its ambience …like I did.
Tshachu Ecolodge will help set up or arrange a camping set in case you want to only relax and spend time alone experiencing this beauty.
5/ Go for shelroti trip
The people of Pemaling told me that we can drive further into Chusegang village where there are Lhotshamp families that make the most delicious Shelrotis with Alu Dum. We drove during sunset and arrived at a small cottage that belongs to Hari Daju (brother) who lives with his small family. His laid out two wooden benches in his backyard and served freshly made Shelrotis with tea and Alu Chana. The delicious evening tea snack is a highlight during Deepawali celebrations but he said it's also something that Lhotsham families cook for guests as a welcome treat
6/ Dolpani Waterfall Hike
Have you heard of a secret jungle trail in Gelephu that takes you on a hiking adventure unlike any other? This is the Dolpani trail. A path that takes you to sacred sites of the Hindu Lord Shiva, this trail is a unique nature adventure quite unique to this part of Bhutan.
The trail begins from Chhokhorling gewog near a mineral water manufacturing unit, 20 minutes before reaching Gelephu town from Sarpang tar. The trail takes about 2 hours before you reach the base of the waterfall that leads you to the main holy site of Lord Shiva. Watch the video to get a full experience
Travel partner, Mercury Bhutan Travels
For more YeeGetaway stories, click here