We often destroy the old in a race to the future.
How many times have we seen an old house being brought down to dust for a brand new building? How often have we heard of old traditional heirlooms being sold to tourists for dollars? Of century old textiles being thrown away because mice nibbled the corners a bit too much? We live in world where old means filthy, irrelevant and outdated. But when I started doing some research on unique lodges in Bhutan, I discovered a different side of Bhutan's hospitality industry that saw something different in the old – Heritage Homes.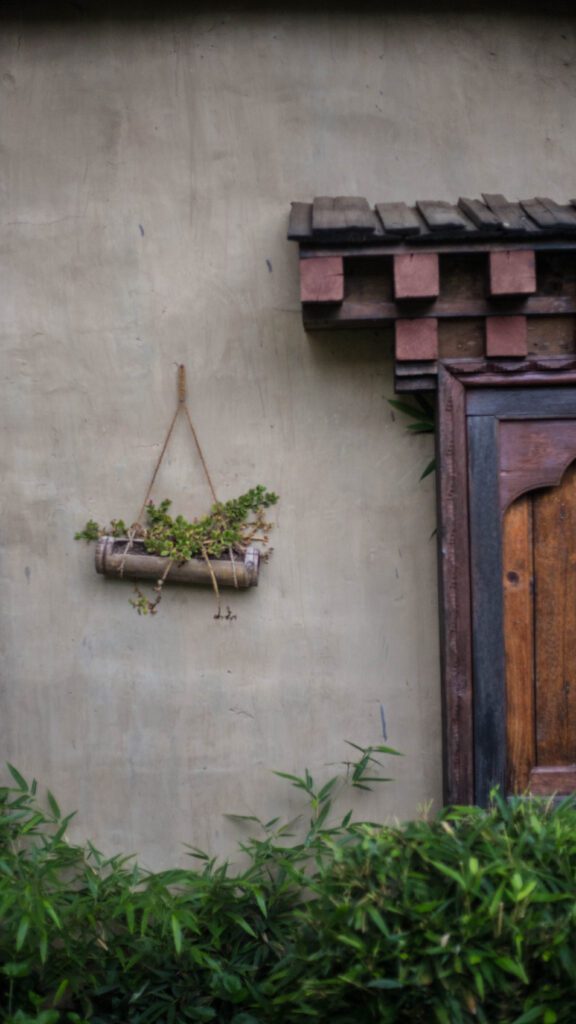 So for my next destination, I decided to visit Nemjo Heritage Lodge, about 2 kms away from Paro town.
There's something very unique about traditional Bhutanese houses. Sure, our fortresses and temples have strong influences from Tibetan designs but I've always been in awe of how unique our houses are – how it stands on its own (not in the literal sense). But if you see a mud wall Bhutanese house, stop, and take a closer look for they're probably the last remaining century-old houses in your vicinity.
As we entered the property, I was immediately drawn to the mud wall exteriors and dark-stained windows. Nemjo Heritage is a restored old farmhouse "converted into a unique sanctuary harmoniously encapsulating all the hospitality and cultural aspects of an era fast disappearing," the brochure said.
I walked into the Mago (traditional door) into the courtyard, and I heard a soft voice from the inside slowly making its way towards me. "Welcome to Nemjo Heritage la." It was Aum Sonam the manager. She showed me to the garden – a traditional courtyard space that had been transformed into a garden (with freshly mowed lawn, wicker chairs, novelty fountain, and lots and lots and lots of flowers) The mud walls of the heritage house that extended into the traditional enclosure walls tied the two very well together. As I sipped my welcome tea, I was already quite excited about getting a tour of the interior and most of all…my room.
As we entered the old structure the daylight faded away. But the dimly lit corridor somehow felt vast in its shadows. The mud walls, steep wooden staircases and traditional beams on the ceilings felt like pieces of the past – like I was entering the house of an aristocrat of ancient Bhutan (maybe). But there was also a balance to it all. For every traditional Bhutanese painting-inspired feature wall, there was a western antique lamp & a coffee station placed next to it. A decorative wall mirror was framed with a traditional wood carving design. All the modern console tables and chests were designed to compliment the rustic yet grand sophisticated space. If you're someone who's used to floor to ceiling window views from your hotel room, try looking through traditional Bhutanese Horzhing (trefoil design) motif windows for a change. You realize that the smaller perspective does not take anything away from the vastness and pure beauty of the landscape.
As I sat outside staring into the bonfire in the evening, getting ready for dinner, Aum Sonam asked me what I wanted to eat. Honestly, all I expected was a traditional meal (with the heritage setting & all) but what I didn't expect was how diverse Nemjo's menu was. Aum Sonam explained that the lodge pays utmost attention to food served at Nemjo. From pork roast, puff pastry, udon noodles to a signature cheese & veggie herb pizza, Nemjo's food is said to be quite known in the tourism circle. "We sometimes have guests who are staying at other places, come here to dine at Nemjo," says Aum Sonam. Needless to say, I was very excited about my food adventure at Nemjo.
Garden Pizzas and Homegrown Food
I woke up to the sound of drizzling rain in the morning & the smell of freshly brewed coffee that led me to the outdoor breakfast lounge in the garden. But it was the breakfast set that really woke me up.
For a long time I was used to just having toast, eggs, jam and butter in the morning at hotels but Nemjo really stepped it up. I don't need to say anything, just swipe to see my breakfast plate. And more heavenly flavors followed in the afternoon. I'm no pizza connoisseur but this probably one of the best pizzas I've ever tasted. I think I mostly enjoyed the simplicity in its toppings. There was no overwhelming amount of ingredients. It was minimal, very flavorful and it all were just picked out from the garden that morning. One thing that makes me very happy is getting to taste food made with homegrown ingredients which is why kitchen garden tours have become a must during my travels. Aum Sonam guided me through their small & adorable little greenhouse picking scallions, chillies and basil. "We just finished picking pumpkins recently," said Aum Sonam.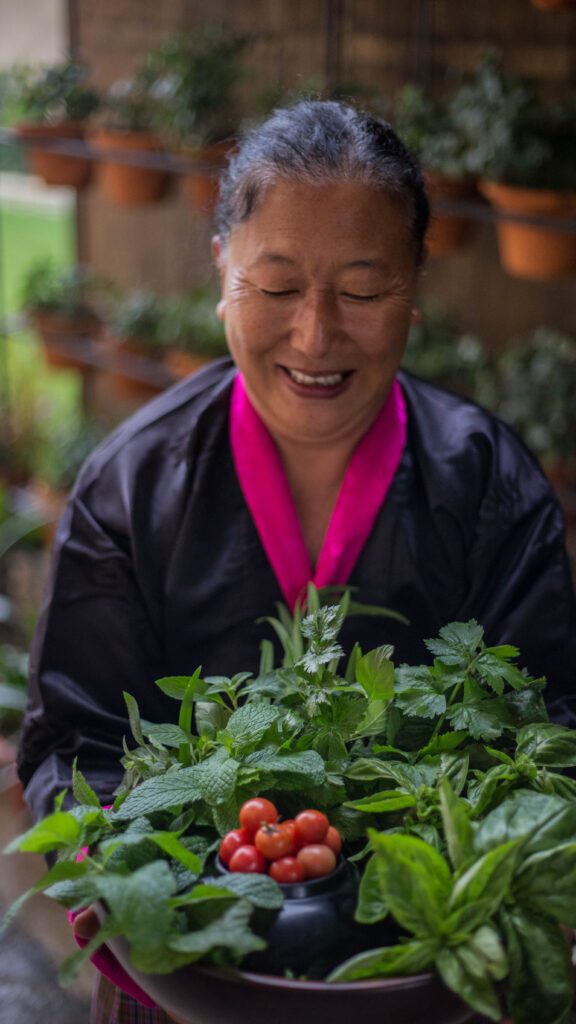 My stay at Nemjo brought me closer to my love for simple things. Whether it's the simple idea of bringing an age old house back to life or the simple idea of valuing the taste of something grown at home – Nemjo brings out the best of simple living…in the most beautiful and valuable way one can think of.
For more details go to bhutanlodges.com