There are countless religious tours you can do in Trashiyantse. From places like Rigsum Goenpa, Gonzha Ney, Gom kora to Pema Ling nye. Here are some additional places that we have the good fortune to visit during our stay in Trashiyangtse. One of the most famous sacred landmarks in the district is Chorten Kora. 
Chorten Kora
This is the first landmark you'll come across as you enter the small town of Trashiyantse. Taking inspiration from the Bouda temple in Nepal, Chorten Kora (which means stupa circumambulation) has a fascinating story behind its creation. The chorten was constructed by Lama Ngawang Lodey in the 17th century to pacify a demon that terrorized the region. Another legend also tells a story of a young Drakpa girl from Arunachal pradesh, India, who was believed to be the form of a goddess dakini who sacrificed herself to be buried alive in the stupa for the goodness of mankind .
Dechen Phodrang
Further north in Boomdelling gewog, there lies a temple that many don't know of, Dechen Phodrang. The view to the temple opens like a curtain, the temple's blissful isolation adds to its aura, and the waterfall crashing on the giant boulders sounds absolutely magical. We finally made it to Dechenphodrang which falls under Boomdelling gewog but is very close to Womanang village. Dechen Phodrang happens to be one of three sacred sites of Guru Rinpoche where Guru Rinpoche planted his walking stick. "One is Baylangdra in Wangdue Dzongkhag, the other one is in Kurje in Bumthang and the Dechen Phodrang, the third one. You see this tall cypress tree? Well, that happens to be Guru Rinpoche's walking stick. Isn't that interesting?" says Koenyar as he takes us around the temple.
Koenyer Tshering Tenzin guides us into Dechen phodrang. He tells us the story of the many feats of Guru Rinpoche. He tells us about the giant boulder in the bridge that Guru Rinpoche split into two in order to clear the path to the holy site. There are more than hundred sacred sites around the temple and locals say that it takes more than a day to visit each one of them. During the next half an hour, we spent our time placing our lips, forehead and praying at the many boulders that have very intriguing patterns and rock impressions on them.  These are the secret nyes of Guru Rinpoche.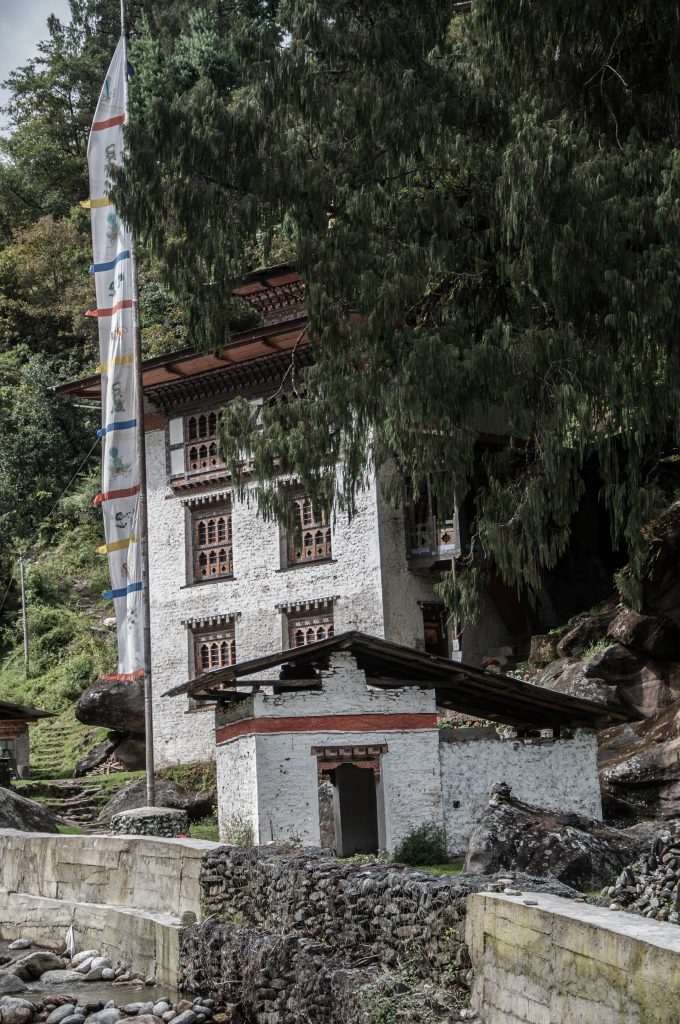 Dongdi Dzong
Further south of the district, just a few kilometers before you reach Trashiyangtse town, head towards a mountain top that stands like an island between two rivers. This is Tashiyangtse's  old fortress – Dongdi dzong. As you walk up the never-ending stone-clad stairs, you enter a beautiful garden space, overlooking the two conjoining rivers. And slowly you make your way into the entrance of Dongdi Dzong. 
Dongdi Dzong possesses the sacred relic, the eleven faced god of compassion – Chugchi Zhey. Locals say that a long time ago, an old lady followed whispers in the forest that led her to the relic behind cypress trees. The relic was then later put in Dongdi Dzong due to its supernatural powers.
There are so many other stories that make this fortress a must visit. The stories of holy saints cutting a boulder in half or mysterious relics with supernatural powers. This may all sound astounding to you, but legends and mythologies have a special place in Bhutanese culture. It connects us to our roots. But it also does something else. It makes you respect nature in its elements. The way Buddhist beliefs intertwine the two make for a beautiful union. We believe that visiting these holy sites and praying will help attain good karma in our life. So the next time you visit a Trashiyangtse, or any other sacred religious site, look forward to these enchanting narratives, it will open your eyes to a whole new world.
Read more blogs about Trashiyantse only on yeegetaway.com.