Introduction
Located in one of the farthest corners of Thimphu, the drive to Cheri passes through the most scenic pine forests in Thimphu. The smooth ride with the fresh smell of the mountains and a graceful river alongside the road. Makes it one of the most relaxing places. Cheri monastery, also known as Chakri Dorjeden, was constructed in 1620 by the command of Zhabdrung Ngawang Namgyel. Chakri Dorjeden is one of the first monastery built in Bhutan by Zhabdrung, at the age of 27. He spent 3 years of strict retreat here, followed by the last of his days. As per ancient records, in the 8th century Cheri was visited by Padamsambhava and famous saints like Phojo Drugom Zhigpo. Today Cheri is a popular retreat for monks and hermits.
Details
Starting Point – Dodena ( Cheri Base Bazam)
End Point – Dodena
Distance – The hike is 1.2 km long / To reach the base of the hike, it will take 40 minutes drive from Thimphu town.
Duration – 30- 45 minutes
Difficulty – Moderate
Highlights
Along the path, you can see adults with children dressed in their best traditional dresses. Whereas sometimes a bereaved family carrying offerings to the lhakhang in the name of the deceased. You can also witness the footprints of Gyelsey Tenzin Rabgey. The heir of Zhabdrung Ngawang Namgyel on a rock while ascending to Cheri. You can also stop at the stone steps beside the footprints and look below to the valley. Here you will see a clear view of distant mountain ranges, clusters of homes and a river.
As you continue on, step to a clearing and alas! you have arrived at Cheri. During winter, the slopes from the monastery appear like wheat gold. On a clear day, Cheri can take your breath away. The small stupa at the end of the hike is an ideal place to stop. Take out your camera or take in the beauty of this place.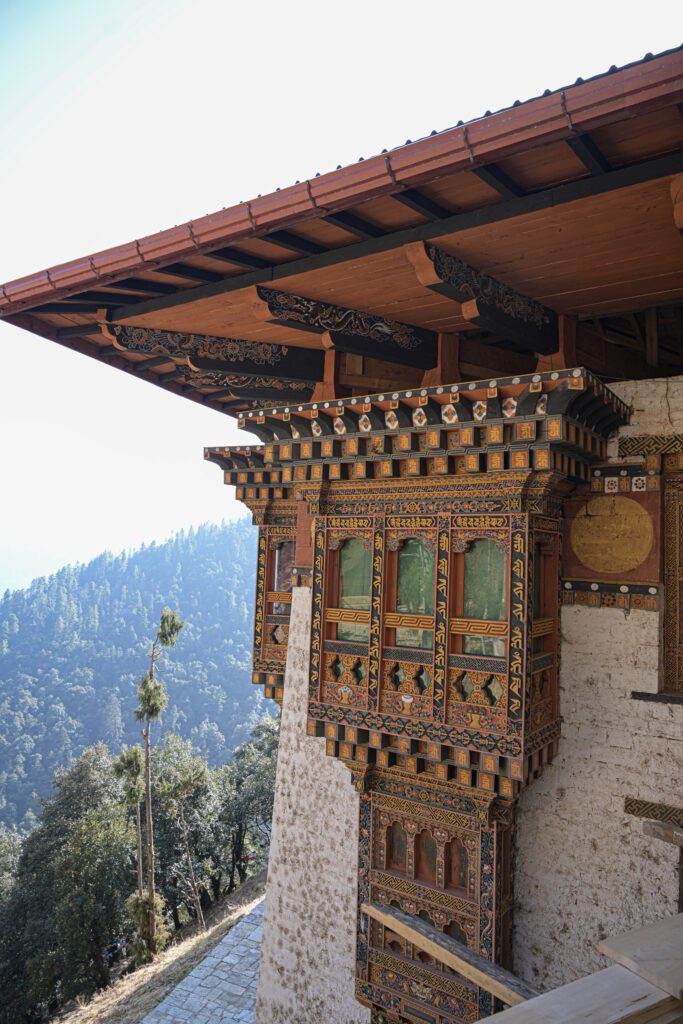 Google map directions here