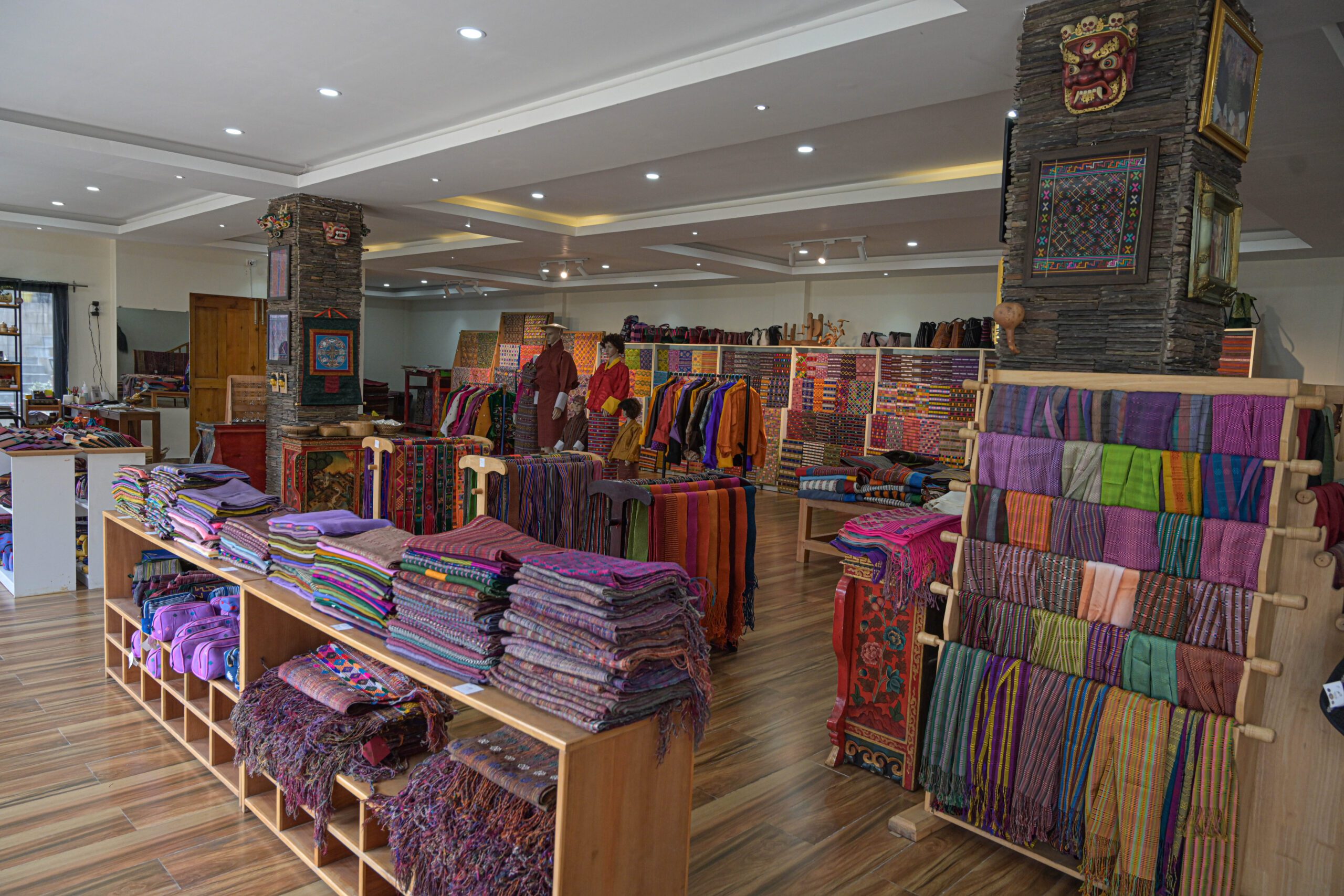 Textile Journey
Weaving traditions in Bhutan hold a significant cultural and artistic value in Bhutan. Weaving is an integral part of Bhutanese culture today and has been for centuries. Traditions and daily lives of its people are often dependant on it. Weaving in Bhutan is often done on traditional backstrap looms, where the weaver sits on the ground and uses body tension to control the tension of the threads. Natural dyes derived from plants, roots, and minerals are frequently used to color the threads. Which gives the fabrics a distinct and earthy appearance.
Gagyel Lhendrup Weaving center is nothing like any other you have seen. Established a little before, Royal Textile Academy, this place is a product of love towards Bhutanese textiles. The previous owner, Aue Gangla, had a keen interest in weaving culture of Bhutan. However, despite his demise, he had left Gagyel with enough pattern designs to keep the establishment going. Today Kezang Tshering handles the company. Gagyel also boasts about weaving the royal wedding dress.
Kira and It's Weavers
They have their own in-house weavers who are expert in this field and produce good quality products. The practice of weaving in Bhutan not only produce beautiful and intricately designed textiles but also contribute to the socio-economic well-being of the communities involved. By preserving and promoting these traditions, Bhutan continues to uphold its cultural identity and heritage. While at the same time providing livelihood opportunities for its people. Nidup Yoentoen, who showed us around the showroom also told us about unique patterns that they come up with. However they are hidden away because of blatant copy of their designs.
Other than the usual Gho and Kira, customers can also purchase household items like table runners, cushions, table cloths etc., all adorned in Bhutanese designs.
Here are some the eye catching pies from Gagyel:
1- Pink Tsholam- hand embroidery.
2- Kishuthara
3- Gho (Shinglo) – hor in gold and maroon
4- Turquoise necklace
5- Pink tego- patterned
Location : Near Thimphu Welcome Gate
Contact – 77172266
For more shopping recommendations. click here
Google directions here