Never in my wildest imagination did I think that I would be walking for 4 hours in the dark to witness a naked dance festival in a remote village in Trashi Yangtse. But we did!
Mey lha is an age-old ritual of Chhema village located near the borders of Trashiyantse closer to Arunachal Pradesh. The festival takes place annually around late summer. It is a small but fascinating night-event, that ferociously chases away evil spirits through a display of uninhibited Ter cham where village men perform completely naked except with a white garb covering their entire face and head.
Walking in the Dark to Chhema Village
During the concluding days of our trip to Trashiyangtse, we ventured into a distant village under Yalang gewog late one night to witness an ancient festival 'mey lha' the sacred naked dance festival of Chhema village. After walking for two hours in the darkness, we finally reached this remote village. We arrived at the village close to midnight but we were surprised to see villagers gathered in the village temple.
There were mothers with babies, elderly villagers and excited children who greeted us in the village temple. Chhema is a small village under Melangkhar  chiwog with only 48 households. As the village Lama informed us that the performance was about to begin, I was a bit concerned that the children were still present but then suddenly we heard the drums beating.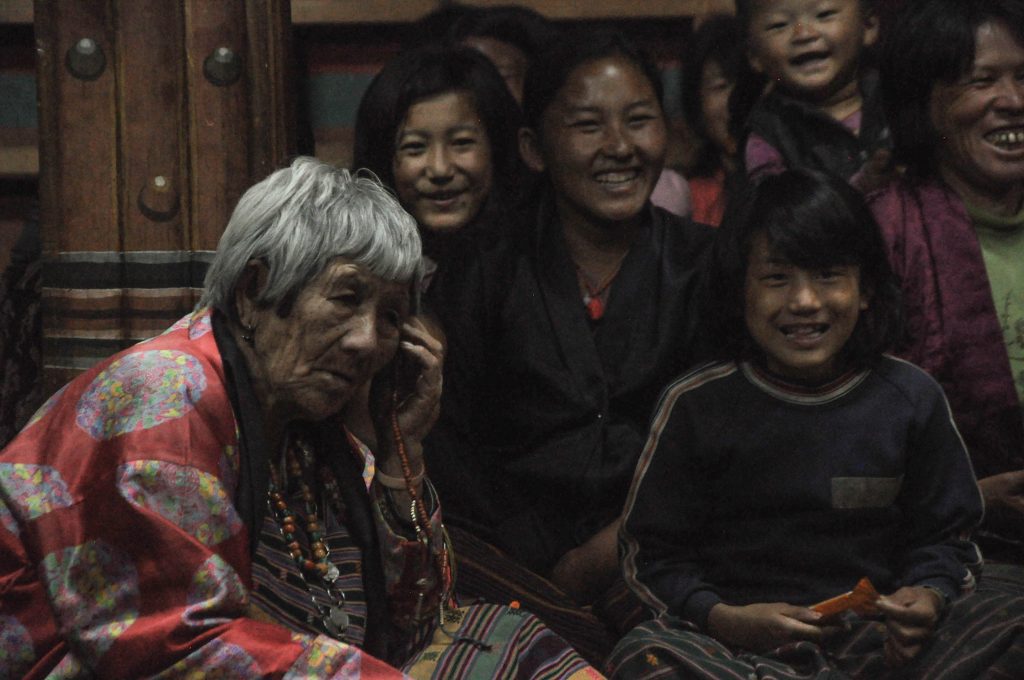 Dance of Masked Naked Men
Suddenly screaming half naked men (they wore shorts as we were documenting them) with white pieces of cloth covering their face and head entered the temple and locked the main door. In a frenzy they formed a circle in the middle of the room and danced around as we all watched. The drums and cymbals sounded louder than usual punctuated by screams of adult men. It was quite a rare sight.
This annual ritual also seeks mey wang (a fire blessing) for the community's good health and prosperity. Such festivals are unlike any other in Bhutan and certain elements might surprise you but if you do choose to come for the festival it's important that you come here to embrace and understand such rituals that have existed for generations.
After a while, the masked performers did something we were not prepared for. They started picking up people from the crowd and hurling them up in the air. And it wasn't just the men. I watched in horror as they started lifting women in the crowd. Imagine this. A group of naked men charging towards you and throwing you up in the air as you lay there frozen.
Why do they do that? "It's tradition," the lama tells me vaguely. If you're planning on attending this festival,  you have to prepare yourself for an uninhibited tradition that has been practiced for generations. Be warned this ritual is actually performed without any clothing except for the pieces covering their faces. As midnight struck, the ritual was transported outside the temple under the moonlight as the performers continued their howling around the fire. As soon as the fire died, the shouting, the drumming and the mayhem came to an end reprising the silence of the night.
It might be appalling to some of you but Trashiyangtse showed me how there are people in remote corners still practicing traditions that have been passed down to them and that there are many other unique festivals in my country waiting to be discovered. This unique sacred festival is performed every year on the 15th night of the sixth month in the Bhutanese calendar. Contact the local district administration of Trashiyangtse for more details.