"What are you going to Haa for?" My family exclaimed when I mentioned my next Yee Getaway trip. And I don't really blame them for reacting that way. The isolated district of Haa doesn't usually top the list of the must-visit places in Bhutan. The only thing I knew about the place was that our famous buckwheat dumpling 'Hoentey' originates from the region and that my husband is from there as well. Hmm, that should have been my first cue to learn a little more about the place.
It was when RSPN invited us for a familiarization tour that got us interested in shooting our next getaway video there. The organization had been quite active with projects to promote rural livelihood and sustainable tourism in the region; which was why they wanted travel companies and the media to understand that Haa did have something to offer. Besides, they also promised they would have quite the itinerary planned for us and so we set off west. "I'm glad we're going to Haa," said my guest host Karma – a popular Bhutanese actor who I had invited to co-host the travel video with me. "I'm from Haa and I know nothing about the place." He said laughing. I wasn't sure if there was anything amusing about that but I realized how very little I knew about my own village in Mongar.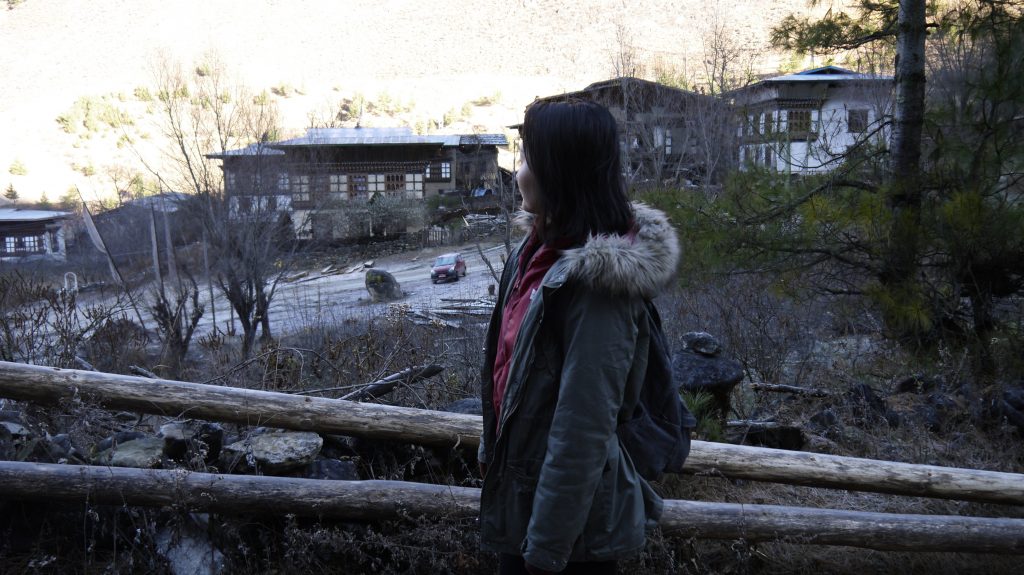 Almost a three hour drive from Thimphu, Haa is located on the far west of Bhutan, bordering Sikkim. After exiting Paro, we soon crossed the famous Chelela Pass on the way to the district. It's an ideal spot to stop for tea with a magnificent view of the Jumolhari mountain range. From the windy mountain top of chelela, over an hour from Paro, it takes another hour and half drive descending into the valley of Haa. "Most people don't know it but Haa has some of the most interesting local legends and folklore," said Khachi, our guide from RSPN who had been taking care of her office's projects in Haa for the last 2 years. "Do you know the story of the Meri Puensum; the three mountain ranges overlooking the valley?," she asked while pointing excitedly out the window. It was dusk already and I wasn't quite sure what she was pointing at but she promised to tell us more the next day.
We had not been quite sure of the accommodation in Haa so we booked our stay at Risum Resort, a comfortable lodge with cottages sprawled around the property. The next morning at 6 am, Khachi with her long list of programs on her itinerary greeted us as we were having our breakfast at the hotel. "Good Morning. So this morning we start off with our visit to Lhakhang Karpo and Nagpo; the two most sacred temples in Haa," she said, jumping straight to the day's program. "Did you know the two temples are actually as sacred as the Jambay Lhakhang in Bumthang?" she said, throwing another one of her Haa district factoids. Something told me we'd be getting quite a lot of that during our stay here. "It's true. It's just that the temples in Bumthang have gotten more publicity," she continued as we drove towards the temple.
As we crossed the main town, a decent cluster of houses with shops selling clothes and groceries, we noticed an unusual crowd of people setting up our national flags and colorful drapes of yellows,reds and blues. Haa is usually known to be a ghost town but at this time of the year, the sepia-colored town was waking up with colors and the smoke of burning cypress. "The people are decorating their facades for National day, and this time His Majesty the King and the Royal Family are coming to Haa. So lucky, no?"
The decorations led right up to the main temple Lhakhang Karpo, where monks and laymen worked together on the temple's vast courtyard setting up the tent and flags around the structure and supervising the preparation was the district's Dasho Dzongda. "We are all very excited about His Majesty's visit to our dzongkhag, and we would like more people to know about Haa. In fact, we're working on opening new hiking trails to have more tourists visit the valley." We then made our way to the main goenkhang of the temple, the main seat of Ap Chhundu, the protecting deity of Haa. It was also from this temple that the valley's famous Ap Chhundu Soelkha commenced – the region's annual tradition of appeasing their local deity for prosperity and bounty.
After finishing our shoot at Lhakhang Karpo, we then made our way to Lhakhang Nagpo which was much smaller compared to the grandeur of its counterpart.with black painted walls and soaring clementine tree right in front of it, somehow Lhakhang Nagpo felt more like somebody's home. Legend has it that two birds (a white and a black one) emanated from the body of the deceased Songshen Gonpo – the Dharma King of Tibet – and the two temples were built on where the birds had descended upon respectively.
We had assumed that we would be having our lunch at a restaurant in town, but as our car sped by the town area and took us into the scattered villages of…gewog, we knew we were in for a unique food experience. "You have to have a meal at a home-stay," said Khachi. "You just call the local farm-stay family to cook a meal and they prepare a wonderful home cooked meal for you." With very little restaurant choices and hotels in the valley, Haa had chosen to invest more in farm-stay accommodations where village homes become lodges-and RSPN was helping them do exactly that. After walking across a small field of turnips and cow shed, we arrived at our Aum…family home where she and her daughter welcomed us at the courtyard doorway with Khadar. "Kuzuzangpo la", said the duo as they gently put the scarves on our heads. "Wait. There's more. Later in the evening we'll be cooking hoentey with another family."
The following days were then filled with visits to the fishery center, hiking the Haa valley view trail, and visiting the yak grazing fields where herds and herds of yaks looked like they were basking in the winter sun. The region shared a special relationship with the animal. Besides being the home for most of Bhutan's yak population, Haa Khachi soon took us to visit another farmhouse where another RSPN project was being carried out in partnership with JICA. We met Akane, a Japanese trainer who was teaching local community members to make souvenirs from locally sourced raw materials. From yak hair key chains, artemisia massage bags. When our trip soon came to an end, I realized we might have been quite mistaken about Haa. The quiet isolated district proved to be a thriving destination that gently nurtured immense tourism prospects. From local folklore to Haa's unique local traditions, we soon realized the region and the people are definitely more than what they seem.
Watch YeeGetaway Travel Video in Haa in 2017.