"There sure are a lot of men here," I thought to myself when we reached this remote village in Kengkhar. Welcome to Naniring under Kengkhar gewog in Mongar. They say the village is named after a huge boulder that resembles a giant ear.
This is the village of the mask makers I'm told. "Aye ga bata tshogpa ga song khung cha" (there are 16 of us making these traditional masks) They took us to one of the homes where a workstation awaited us and it was quite a sight. Colorful masks hanging from the ceiling, piles of wooden masks on the floor, paint brushes in plastic bottle cups splattered with paint create a beautiful background for our production shoot and I couldn't wait to start taking pictures.
Babzo is the art of Mask carving. It all starts from a block of wood, which is outlined with a pencil for the carving to start. Within hours the carver uses several special tools to turn the block of wood into a beautiful carved mask silhouette.
Smaller tools are used to carve a sharper precise design on the masks after which it is smoothened with a sandpaper they call sog sog pa. A simple varnish is applied on the finished mask before the painting begins and then hung to dry. Samten, one of the members of the group explained that although people did make masks in Naniring before, they were too old to teach the young interested ones.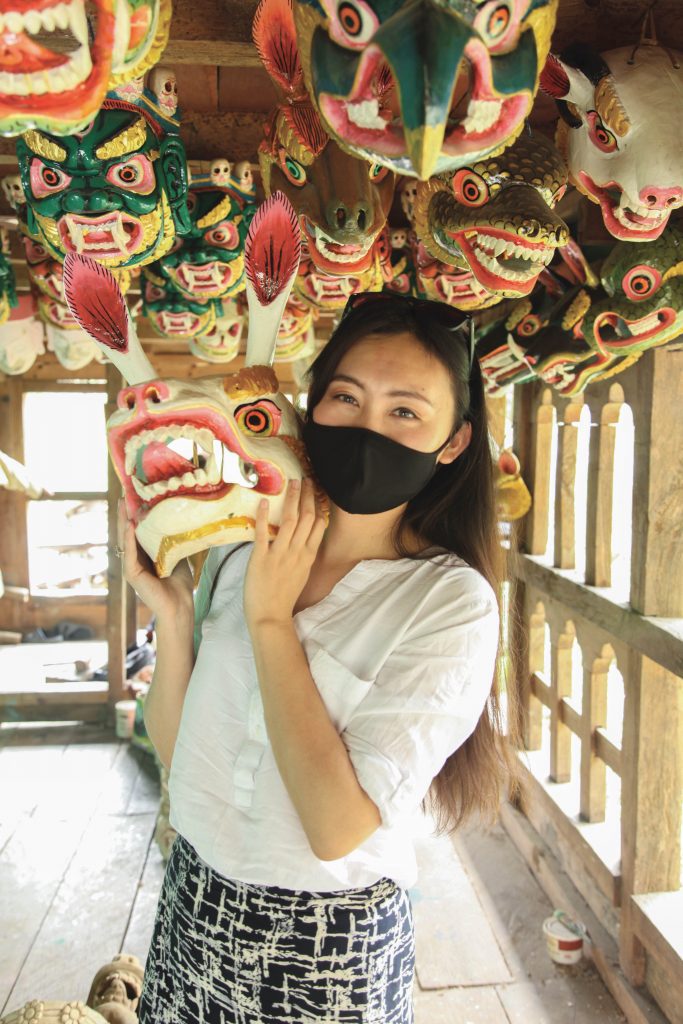 It was only after Tarayana sent 22 of them for training in Trashi Yangtse that the art was revived here. "We were able to make Nu. 200,000 at one point from the sales after Tarayana helped with the marketing of the products. Now we are able to focus on this craft fully and our group can finish 10 masks in a week." Although the sales have dwindled due to the pandemic, the tshogpa says they still have locals ordering masks from distant villages in Mongar, Trashigang and Pema Gatshel as well. 
P.s these masks from Kengkhar sell for Nu. 5500 for a pair. You can also find crafts from Kengkhar at the outlets by Tarayana Foundation. For more information go to www.tarayanafoundation.org.